Member Groups
Join us as a member group!
Alabama Arise was founded as a coalition, and we are proud to continue this model today as a member-based organization. Our membership includes faith-based, community, nonprofit and civic groups, grassroots leaders and individuals from across Alabama.
Our group membership program
Members like you are at the heart of our work at Alabama Arise. By standing together, we can and will build a better Alabama for all. Here are some of the benefits you receive when you join Arise:
Connect with caring people across the state to build a better, more inclusive Alabama for all.

Propose and vote on Arise's annual policy priorities and elect our board of directors.

Work directly with our organizers and lobbyists to plan events for your organization, advocate for the causes you care about and gain access to the latest policy research to share with your organization and legislators.

Access insider policy resources and guides, such as the Daily News Digest, weekly Legislative Updates during the session and quarterly newsletters sent to your mailbox.
Find more helpful resources on our member resources page.
How to join as a member group
The Arise Memorandum of Understanding outlines the obligations of membership in the Alabama Arise coalition.
If your organization is interested in joining Arise as a member, please reach out to development associate McKenzie Burton at mckenzie@alarise.org to learn more or to return the completed MOU by email.
Renewing your existing group membership
Group memberships are renewed annually, due on the anniversary of your first gift to Arise.
Most of our member groups donate to Alabama Arise Action, our 501(c)(4) partner organization. Renew online here or by mailing a check to Alabama Arise Action, P.O. Box 612, Montgomery, AL 36101.
If you prefer to give to Alabama Arise (501(c)(3)), you can do so at our donation page. Please email development associate McKenzie Burton at mckenzie@alarise.org to let us know that your gift should be designated to your organization.
We also encourage you and members of your organization to become individual members of Alabama Arise! Learn more about individual membership on our donation page.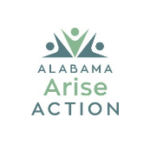 Alabama Arise Action is the 501(c)(4) partner organization of Alabama Arise. Alabama Arise Action engages in direct lobbying at the Legislature. Many of our member groups donate to the 501(c)(4). You can find its website here.