Staff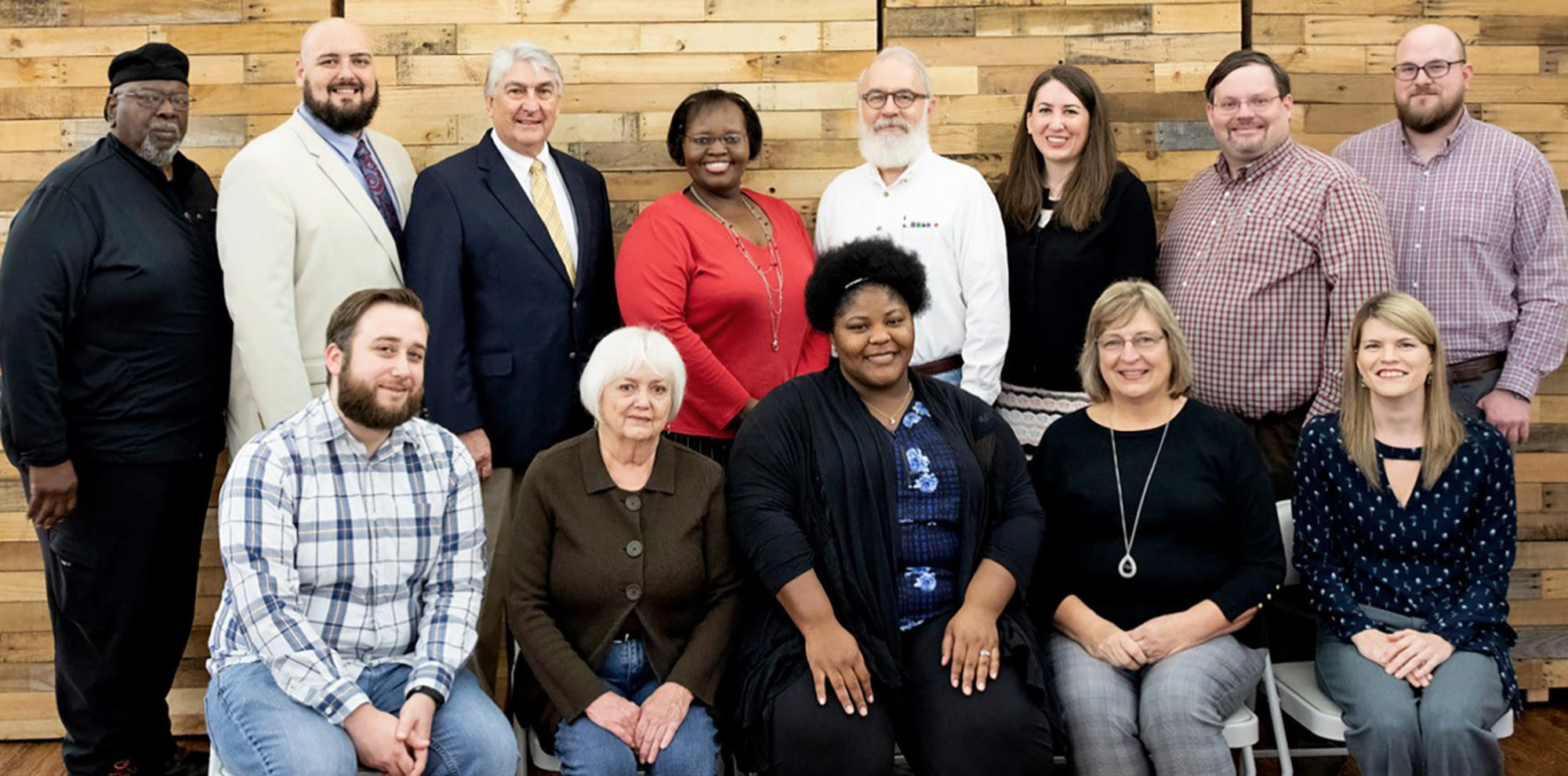 Brenda Boman
Development Director
Email Brenda
Brenda Boman joined the Arise staff as development director in 2005 after a 27-year teaching career, during which she taught English to students ranging in age from junior high school to seniors at Auburn University. She has a B.A. in secondary education from Auburn University and an M.A. in English from Wright State University in Dayton, Ohio.
Jim Carnes
Policy Director
Email Jim

Jim Carnes is Arise's policy director. He grew up in Columbus, Miss., and graduated from the University of North Carolina. He began his editorial career at Encyclopaedia Britannica in 1977. After directing the Teaching Tolerance project at the Southern Poverty Law Center from 1995 to 2003, he joined the Arise staff to work on the Amendment One tax reform campaign. He worked as Arise's communications director before becoming policy director in 2013.
Celida Soto Garcia
Hunger Advocacy Coordinator
Email Celida

Celida Soto Garcia is Arise's hunger advocacy coordinator. She is a Birmingham resident and graduated from Rutgers University with a dual degree in administration of justice and sociology. Celida grew up as a Jersey girl speaking Spanish first, and she has participated in movements related to economic injustice, women's rights, food sovereignty, public safety and criminal justice reform. She came to Arise in 2019 with a long and diverse work experience, ranging from child welfare services to disaster recovery assistance to fostering community engagement as an educational liaison with the UAB Minority Health and Health Disparities Research Center. Celida seeks to contribute to the popular education needed to grow, connect and build in any language that speaks to connectivity.
Carol Gundlach
Policy Analyst for Taxes and Budgets
Email Carol

Carol Gundlach has been an Arise policy analyst since 2013. She previously worked as executive director of the Alabama Coalition Against Domestic Violence and as state coordinator of the Alabama Coalition Against Hunger. She has an M.S.W. degree and has taught social work policy and community organization at Auburn University and the University of Alabama.
Presdelane (Pres) Harris
Organizing Director
Email Pres

Presdelane (Pres) Harris is Arise's organizing director. She has worked for Arise since its founding in 1994 and has a B.S. in justice and public safety from Auburn University at Montgomery and an M.S. in management from Troy University. She has lived in Montgomery her entire life and enjoys spending time with family and friends, working in her church, watching movies, and singing along with gospel/ inspirational CDs.
Robyn Hyden
Executive Director
Email Robyn

Robyn Hyden returned to Arise as executive director in 2018, having previously worked as one of the group's north Alabama organizers from 2013 to 2017. In her most recent role as director of grants management at the United Way of Central Alabama, she was responsible for fund development and evaluation for numerous poverty alleviation programs. Robyn is a Pelham native and a graduate of Vanderbilt University, where she edited the Orbis student newspaper. She also worked as an Americorps VISTA volunteer at the Alabama Poverty Project and directed development and communications at Urban Ministry in Birmingham. She lives with her husband, Zac, in Montgomery.
Stan Johnson
Organizer for North Alabama
Email Stan

Stan Johnson has been a contract organizer with Arise since 1995. He has a B.A. from California State University, Fresno, and a master's degree in urban and regional planning from Alabama A&M University. Based in Birmingham, he works to expand Arise's outreach and growth in north Alabama.
Mike Nicholson
Organizer for Southeast Alabama
Email Mike

Mike Nicholson joined Arise as an organizer in 2018. He holds a B.A. in political science and sociology from the University of Montevallo and is working on a Ph.D. in political science from the University of Alabama. He works to expand Arise's outreach and growth in southeast Alabama, including the Auburn/Opelika, Dothan and Montgomery areas.
Matt Okarmus
Communications Associate
Email Matt

Matt Okarmus joined Arise as its communications associate in 2018. After growing up in the Wiregrass area, he attended Auburn University and earned a B.A. in journalism. He went on to work for the Montgomery Advertiser for six years and the Opelika-Auburn News for two years.
Chris Sanders
Communications Director
Email Chris

Chris Sanders is Arise's communications director. He is a lifelong Alabama resident, a member of the Alabama State Bar and a two-time graduate of the University of Alabama, where he earned a B.A. in journalism and political science and a J.D. He is a former editor-in-chief of The Crimson White and was an articles editor for the Alabama Law Review. He is a founding member of the University of Alabama Community Affairs Board of Advisors and serves on the editorial board of The Alabama Lawyer. He joined the Arise staff in 2007 as a policy analyst on tax and budget issues and became communications director in 2013.
Juliette Singleton
Office Assistant
Email Juliette

Juliette Singleton is Arise's office assistant. She had volunteered with Arise since 2007 before joining the staff in 2012. Since then, she has provided administrative support and reception duties in the Montgomery office. She works closely with development director Brenda Boman and assists numerous other staff members as well. Juliette has the kind voice and big smile that more than likely will greet you when you call or come to the Arise office.
Debbie Smith
Organizer for North Alabama
Email Debbie

Debbie Smith is an organizer with Arise. Based in Fort Payne, she works to expand Arise's outreach and growth in north Alabama. She is from Meridian, Miss., and has a B.A. and M.S. degrees in speech communication from the University of Southern Mississippi. Before joining Arise in 2018, she worked at the Mississippi Health Advocacy Program for six years to improve health coverage for low-income and underserved Mississippians. She enjoys spending time with her family and exploring the Lookout Mountain and Tennessee Valley areas.
David Stout
Legislative Affairs Coordinator
Email David

David Stout is Arise's legislative affairs coordinator. He joined the Arise team in 2013 after spending 15 years editing the Alabama School Journal. Before then, he served as a member of the Alabama Legislature and as mayor of Fort Payne for 13 years. He has a B.A. from Jacksonville State University and an M.A. in American history from the University of Alabama.
Dev Wakeley
Policy Analyst for Human Rights and Consumer Protection
Email Dev

Dev Wakeley joined Arise as a policy analyst in 2018. His work covers numerous consumer and human rights issues, including payday and title lending reform, public transportation and criminal justice policies. He is a Gardendale native who has a B.A. in philosophy from Franklin & Marshall College and a J.D. from the University of Alabama. He was admitted to the Alabama State Bar in 2017. During law school, he served on the Public Interest Student Board executive committee and the Alabama Civil Rights and Civil Liberties Law Review. He also worked on the Elder Law Clinic through the UA School of Law and the Clemency Project for the Federal Defenders Program for the Middle District of Alabama.