Election Day is officially Nov. 3, but the 2020 general election is well underway. More than 206,000 Alabamians have voted already, shattering the state's previous record for votes cast before Election Day.
The presidential and U.S. Senate races are drawing the biggest share of the attention in Alabama this year. But voters also will decide on their U.S. representatives, six statewide constitutional amendments and a host of state and local offices.
Have you made a plan to vote? Below, Alabama Arise has information about how to vote by mail or in person. And we explain why we urge Alabamians to vote YES on Amendment 4.


It's not too late for absentee voting!
The deadline to submit a standard absentee ballot application or to vote absentee in person this year is Thursday, Oct. 29.
The last day to postmark an absentee ballot is Monday, Nov. 2, the day before the election.
Due to potential mail delays, voters who are interested in voting absentee should consider safely doing so in person. Absentee ballots must arrive at the election manager's office by no later than 5 p.m. on Monday, Nov. 2 (if hand-delivered) or by noon on Tuesday, Nov. 3 (if returned by mail).
Alabamians may vote absentee if they are worried about crowded polling places during the COVID-19 pandemic. On the application, they should check the box that says "I have a physical illness or infirmity which prevents my attendance at the polls."
You can find much more information and resources on absentee voting on the Alabama Secretary of State's website.
What you need to know for Election Day
Polls in Alabama are open from 7 a.m. to 7 p.m. If you're a registered voter in line by 7 p.m., stay in line! You'll be allowed to vote.
Alabama Arise supports Amendment 4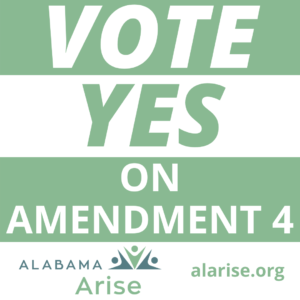 From our blog: "It's past time for Alabama to tear down the policy legacies of slavery and segregation. And Alabamians can take an important step in that direction this fall by voting yes on Amendment 4. …
"Amendment 4 would allow the Legislature to remove racist language from the constitution. Examples of these provisions include references to separate schools for Black and white children and the prohibition of interracial marriages. This change would address one of the constitution's original sins: its authors' explicit intent to establish white supremacy in Alabama."