The grocery tax bill passed. After more than three decades of persistent advocacy, Alabama Arise members turned that longstanding vision into reality this year. Every Alabamian will benefit as a result, and the benefits will be greatest for families struggling to make ends meet.
This breakthrough highlighted a 2023 regular session during which Arise members made a difference on numerous priorities at the Legislature. Our advocacy helped an important criminal justice reform become law and helped block efforts to undermine voting rights.
What the grocery tax bill will do
Alabamians will begin paying a lower state grocery tax this Labor Day weekend. HB 479, sponsored by Rep. Danny Garrett, R-Trussville, will cut the state sales tax on groceries from 4% to 2% in two steps. The reduction will apply to all items defined as food under the Supplemental Nutrition Assistance Program (SNAP). When fully implemented, the law will save Alabamians the equivalent of about a week's worth of groceries every year.
The first step will take effect Sept. 1, when the state grocery tax will drop from 4% to 3%. The next reduction, from 3% to 2%, will come in September 2024, as long as Education Trust Fund (ETF) revenues have grown by at least 3.5% over the previous year. If they haven't, the reduction will occur in the first year when revenue growth does meet that threshold.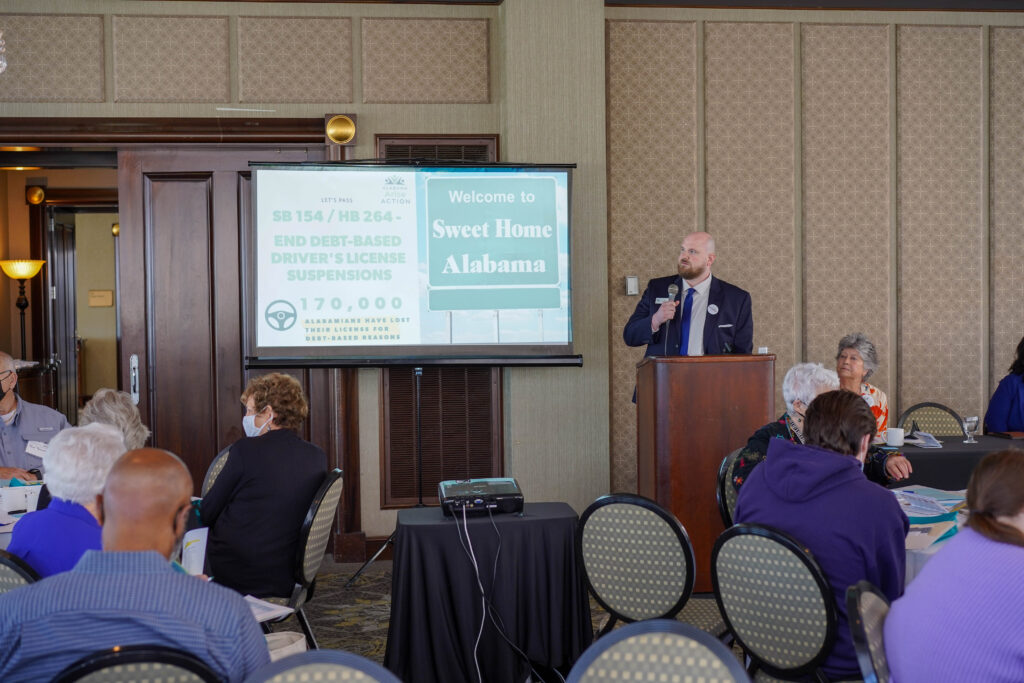 HB 479 also allows (but does not require) cities and counties to reduce their sales taxes on groceries. The law allows localities that reduce their grocery tax to reverse some or all of that reduction later. But localities cannot increase local grocery taxes above their current rate.
Garrett's bill emerged late in the session but quickly gained overwhelming bipartisan support. The House passed the bill 103-0 on May 25, and the Senate followed with a 31-0 vote June 1. Gov. Kay Ivey signed the bill into law June 15.
Garrett joined with Sen. Andrew Jones, R-Centre, and Lt. Gov. Will Ainsworth to guide HB 479 through the Legislature. But the bill's passage also rests on the foundation laid by many other legislative champions through the years. They include former Rep. John Knight, D-Montgomery; former Sen. Hank Sanders, D-Selma; Sen. Merika Coleman, D-Pleasant Grove; and Reps. Laura Hall, D-Huntsville, Penni McClammy, D-Montgomery, and Mary Moore, D-Birmingham.
What comes next in our work to untax groceries
HB 479 is a watershed moment in Arise's work for tax justice. That work will continue. The bill doesn't eliminate the entire 4% state grocery tax, and it doesn't replace the revenue. The state grocery tax is an important funding source for public education, bringing in about $600 million annually. That is about 7% of this year's ETF budget.
"Revenues are strong enough for now to reduce the grocery tax without causing severe harm to education funding," Arise executive director Robyn Hyden said. "But history tells us that good economic times won't last forever."
Legislators this year created a study commission to recommend sustainable ways to eliminate the rest of the state grocery tax. HJR 243, sponsored by McClammy, requires the commission to report its findings and recommendations by November 2026.
Arise will seize that opportunity to push lawmakers to close tax loopholes skewed in favor of wealthy people and highly profitable corporations. One such loophole is the state income tax deduction for federal income taxes (FIT). Alabama is the only state that still allows a full FIT deduction.
The state grocery tax is a cruel tax on survival that drives many Alabamians deeper into poverty. Arise is committed to building on this year's success and ending this tax forever. With our members' continued advocacy and support, that is another vision we'll turn into reality together.