We made it! Today is Election Day across the United States. More than 300,000 Alabamians have voted already, shattering the state's previous record for votes cast before Election Day. And we're likely to continue to break records today.
The presidential and U.S. Senate races are drawing the biggest share of the attention in Alabama this year. But voters also will decide on their U.S. representatives, six statewide constitutional amendments and a host of state and local offices.
Have you made a plan to vote? Below, Alabama Arise has information about how to vote in person, what to do if you face barriers to voting, and why we urge Alabamians to vote YES on Amendment 4.


Here's what you need to know for Election Day:
Polls in Alabama are open from 7 a.m. to 7 p.m. If you're a registered voter in line by 7 p.m., stay in line! You'll be allowed to vote.
If you face any intimidation, threats or other barriers to voting, trained volunteers are ready to help:
English: 866-OUR-VOTE (866-687-8683)
Spanish: 888-VE-Y-VOTA (888-839-8682)
Asian languages: 888-API-VOTE (888-274-8683)
Arabic: 844-YALLA-US (844-925-5287)
Alabama Arise supports Amendment 4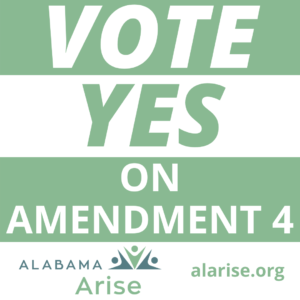 From our blog: "It's past time for Alabama to tear down the policy legacies of slavery and segregation. And Alabamians can take an important step in that direction this fall by voting yes on Amendment 4. …
"Amendment 4 would allow the Legislature to remove racist language from the constitution. Examples of these provisions include references to separate schools for Black and white children and the prohibition of interracial marriages. This change would address one of the constitution's original sins: its authors' explicit intent to establish white supremacy in Alabama."