Every eligible citizen should be able to vote, with no unnecessary barriers blocking the exercise of that fundamental right. But Alabama has an unusually troubled history of shameful voter suppression. And the Legislature has been reluctant to implement changes to help bring our state's voting practices up to modern standards.
This year, Alabama has an opportunity to strengthen our voting practices and expand voting for tens of thousands of people. Three lawmakers – Reps. Prince Chestnut, D-Selma, Thomas Jackson, D-Thomasville, and Neil Rafferty, D-Birmingham – discussed several bills that would safeguard and expand voting rights in Alabama during a news conference Wednesday at Dexter Avenue King Memorial Baptist Church in Montgomery. Representatives from Alabama Arise and the Alabama State Conference of the NAACP also attended to show support for the legislation.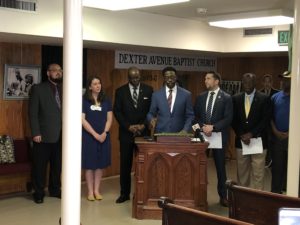 Chestnut sponsors two of the bills: HB 501, which would establish automatic voter registration (AVR) in Alabama, and HB 502, which would allow Alabamians to vote absentee without having to give a reason. Jackson's HB 256 would require each county to open at least one location for early voting. And Rafferty's HB 486 would allow eligible Alabamians to register to vote on the same day as the election.
How automatic voter registration would strengthen democracy in Alabama
All four of these bills would improve government responsiveness to citizens' wishes in a state with deep stains on its history of democracy. Arise particularly supports Chestnut's efforts to establish automatic voter registration (AVR) in Alabama. Our fact sheet explains how AVR has saved money and boosted turnout in other states.
AVR would allow more than half a million unregistered and inactive voters in Alabama to be registered or updated automatically through transactions they already conduct with state agencies. Implementing AVR could save the state millions of dollars and significantly boost turnout.
The participation gains could be especially strong among people of color and younger voters. After Georgia put AVR in place in late 2016, turnout increased by nearly 30% between the 2014 and 2018 midterms. Turnout among nonwhite voters set new records, jumping by more than 36%. And turnout among young adults increased by nearly 45%.
Unfortunately, the Alabama House already has left the early voting bill languishing in a subcommittee for weeks. And amid rumors of an early end to the regular session, time is ticking for all four voting rights proposals.
Protecting the right to vote is essential, and it's important not to allow these reforms to die quietly in committee. The people of Alabama deserve automatic voter registration and other changes to help ensure everyone's voice is heard.