Lawmakers should jump-start public transportation across Alabama with an allocation of $20 million from the state's remaining federal COVID-19 relief money, according to a letter that 82 churches and organizations across the state sent Wednesday to Gov. Kay Ivey and legislators. Alabama Arise is among the groups that co-signed the letter.
The organizations asked Gov. Kay Ivey and the Legislature to invest $20 million of American Rescue Plan Act (ARPA) funds in the state Public Transportation Trust Fund. That amount is just 2% of the state's roughly $1 billion of remaining unallocated ARPA funds.
Alabama is one of only three states with no state funding for public transportation, the letter says. Lawmakers created the state Public Transportation Trust Fund in 2018, but it has yet to receive state funding. And the consequences of that state inaction have grown in recent years, the letter says.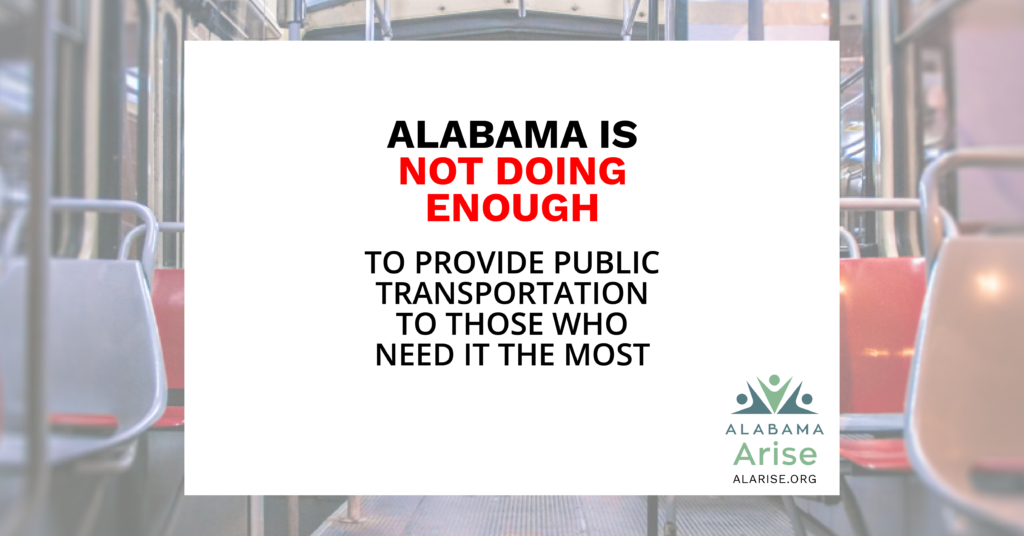 "The COVID-19 pandemic only worsened the harm resulting from lack of state support for public transportation," the letter says. "We know robust investments in public transit will provide strong benefits for people across Alabama. Greater access to work, school, child care and medical care are just a few examples of how public transit is critical not only for an individual's quality of life but for the state's economic development and prosperity."
More public transit funding means fewer service barriers
Investments in public transportation would expand economic opportunity, advance racial equity and strengthen community connections, a recent Arise report found. Arise's survey of public transit systems in 42 of Alabama's 67 counties showed how additional funding would empower those systems to lift many service barriers.
"State public transportation funding is an investment in a stronger economy and healthier communities," Arise executive director Robyn Hyden said. "This investment would allow Alabama to draw down more federal infrastructure dollars. It would allow systems to hire more drivers and add more routes. It would enable them to extend operating hours and modernize technology. And it would bring us closer to the day when all Alabamians can get where they need to go when they need to get there."
Click here to read the full letter from 82 organizations to the governor and legislators.