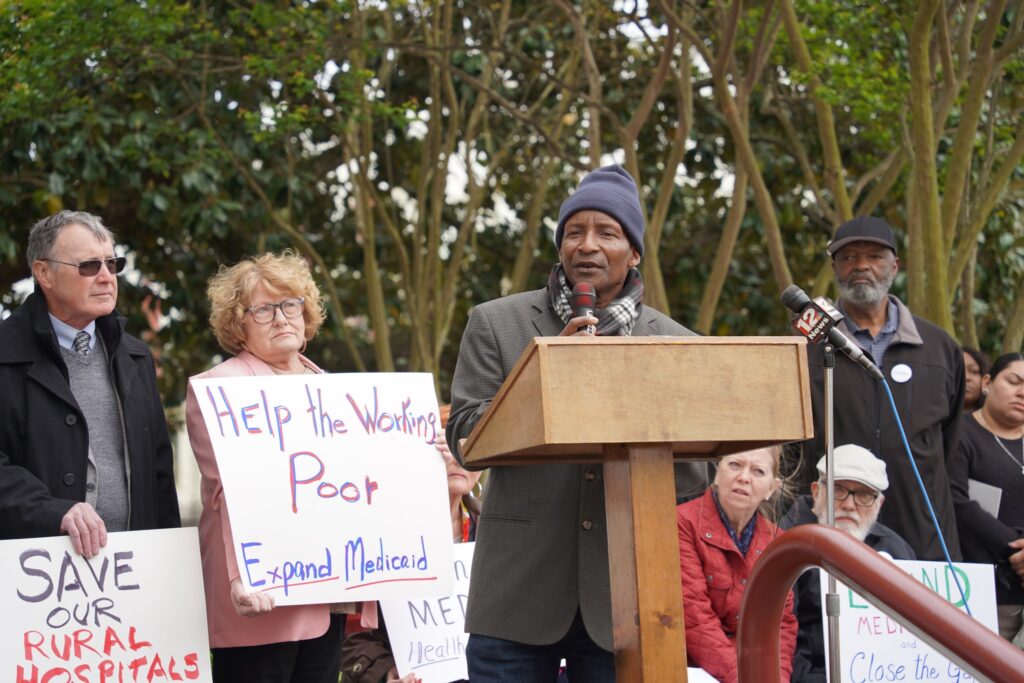 More than 80 Alabamians gathered outside the State House in Montgomery on Tuesday to urge state lawmakers to expand Medicaid to cover adults with low incomes. The Cover Alabama coalition sponsored the event as part of its advocacy day for Medicaid expansion. Alabama Arise is a founding member of Cover Alabama.
Some advocates shared stories of how Medicaid expansion would help their families and communities. Others highlighted how expansion would benefit Alabama's economy and health care system. All sought to show the human faces of the state's health coverage gap and the suffering it causes.
Video footage from the event is available here. Photos from the events are available here.
"I lost my job because of a chronic health condition. I'm the primary provider for my family, but I could not stay well enough to do my job," said Jesse Odland, a Huntsville line cook. "Now, I worry my medical debt will affect how my family can thrive. The working class drives our economy, and we're hit the hardest by the coverage gap."
Closing the coverage gap would help nearly 300,000 Alabamians access potentially life-saving care. It also would create thousands of new jobs and invigorate the state's economy, research shows. Medicaid expansion could create more than 20,000 new jobs and save the state almost $400 million each year for the next six years, according to a recent report by the Public Affairs Research Council of Alabama. And in rural areas, expansion would have the added benefit of reinforcing rural hospitals.
"Alabama's rural hospitals are in trouble. More than a dozen are at immediate risk of closing this year," said Dr. Marsha Raulerson, who has been a pediatrician in Brewton for more than 40 years. "When a rural hospital closes, that community loses not only their access to health care but also a primary economic engine and the jobs that come with that. Medicaid expansion is a win-win for patients and providers alike."
Rev. Carolyn Foster, the faith in community coordinator at Greater Birmingham Ministries, argued that expanding Medicaid is just the right thing to do.
"No matter our creed, we can all agree that we are called to love our neighbors as ourselves," Foster said. "So long as we allow our neighbors to fall into the health care coverage gap, we are failing to answer that calling. It is an affront to people of faith and people of good will."
Thirty-nine states and the District of Columbia have expanded Medicaid, and North Carolina likely will join that list next week. Debbie Smith, Alabama Arise's Cover Alabama campaign director, said advocates hope this is the year Alabama will expand, too.
"Research shows Medicaid expansion is favorable on both sides of the political aisle," Smith said. "We are hopeful Alabama lawmakers will do the smart, compassionate and fiscally responsible thing and expand Medicaid now. How can our state not afford to save money?"
Click here for video from the event. And click here for photos from the event.