Alabama's likely voters overwhelmingly support using federal COVID-19 relief funds to increase funding for mental health and rural hospitals, according to a new Alabama Arise poll released Monday.
More than four in five respondents (81.1%) supported using a portion of Alabama's funding under the American Rescue Plan Act (ARPA) to invest in rural hospitals and increase rural Alabamians' access to health care. And nearly three in four likely voters (73.6%) said lawmakers should boost mental health funding to increase access to services across Alabama. Among Republican voters, 80.1% supported investments in rural hospitals and 67.7% supported more mental health care funding.
"Alabamians are loud and clear that they want our lawmakers to use federal relief money to strengthen our state's health care system," Alabama Arise executive director Robyn Hyden said. "The COVID-19 pandemic has strained health care workers like nothing before in our lifetimes. And it has exposed and worsened our state's persistent racial and geographic health disparities.
"ARPA offers an unprecedented chance to protect rural hospitals and increase access to mental health care and other services. We must seize this opportunity to build a healthier future for Alabama."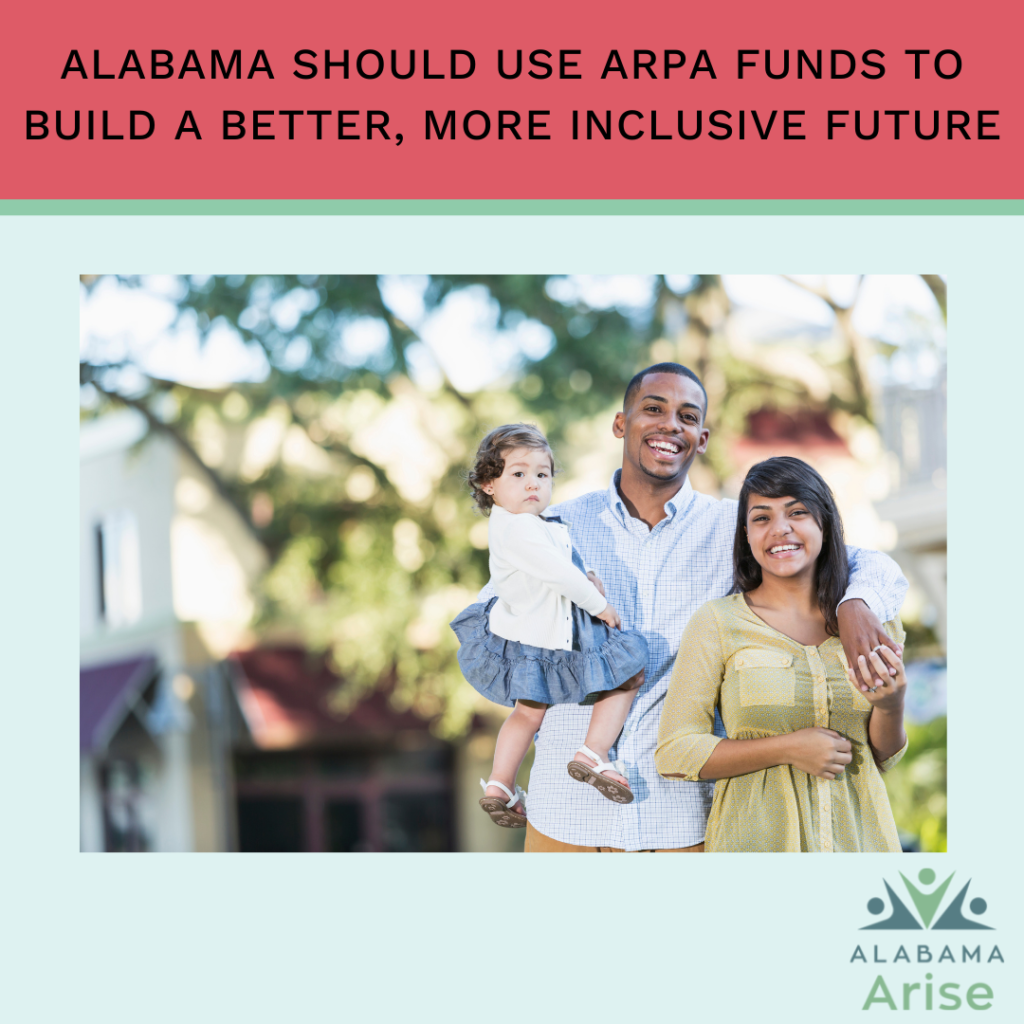 Child care, housing, public transportation also enjoy strong public support
Sizable majorities also approved of other potential uses of ARPA money to improve living conditions for Alabama's children and families. Those proposals include:
Expanding access to subsidized child care for working families.
Establishing a state child tax credit to lower costs for working families.
Expanding access to affordable housing throughout the state.
Investing in public transportation, particularly in rural areas.
Alabama will receive a total of more than $2 billion in ARPA funds. Lawmakers last year appropriated $400 million of that amount toward prison construction and $80 million to hospitals and nursing homes. This week, the Legislature will vote on a plan to spend another $772 million of ARPA funds. Most of that money would go toward broadband internet expansion, water and sewer improvements, and additional funding for hospitals, nursing homes and assisted living facilities.
The state expects to receive the remaining $1 billion in ARPA funds later this year. Arise's poll shows the public wants legislators to use that money to ease economic stress on Alabama households, Hyden said.
"The pandemic has made it harder for people across our state to find child care, keep a roof overhead and get where they need to go," Hyden said. "We should use ARPA funding to ease families' suffering and provide the supports needed to help every Alabamian succeed. It's time for our lawmakers to meet this moment and ensure Alabama's post-pandemic future is a bright and inclusive one."
About the survey
Alabama Arise commissioned the poll, which the Montgomery-based firm Cygnal conducted Jan. 13-14. The poll surveyed 631 likely voters across Alabama and has a margin of error of +/- 3.85%. Interviews of known registered voters occurred via live phone calls, online panel, texts and email invitation.
Click here for Arise's poll results on ARPA funding priorities in Alabama.