Nearly three in five Alabamians (59.3%), including 56.1% of Republican voters, support legislation that would remove the state sales tax on groceries without cutting education funding, according to a new poll commissioned by Alabama Arise. Only 25.3% of respondents opposed the plan, with another 15.5% saying they were unsure or did not take a position.
The poll shows strong public support for untaxing groceries in a responsible way, Alabama Arise executive director Robyn Hyden said.
"The state grocery tax increases hunger rates and drives struggling Alabamians deeper into poverty," Hyden said. "Legislators have a clear path to untax groceries without cutting a dime of funding for public schools. They should act now to seize this opportunity to improve life for families across our state."
Arise unveiled the poll results Tuesday during a member rally at the State House in Montgomery. Dozens of Arise supporters gathered to show their support for efforts to eliminate the state sales tax on groceries.
Why and how to end the state grocery tax in Alabama
Alabama is one of only three states, along with Mississippi and South Dakota, with no tax break on groceries. And Alabama is one of only two states, along with Iowa, to allow a full state income tax deduction for federal income tax (FIT) payments. Because wealthy people pay more in federal income taxes on average, the state's FIT deduction overwhelmingly benefits rich households.
Both sales tax revenue and individual income tax revenue go to the Education Trust Fund. By capping the FIT deduction, Alabama could afford to end the state sales tax on groceries while protecting school funding. Three bills this year would do that: SB 43 by Sen. Andrew Jones, R-Centre; HB 173 by Rep. Mike Holmes, R-Wetumpka; and a forthcoming bill by Rep. Penni McClammy, D-Montgomery. McClammy's bill also would remove the state sales tax from over-the-counter medicines.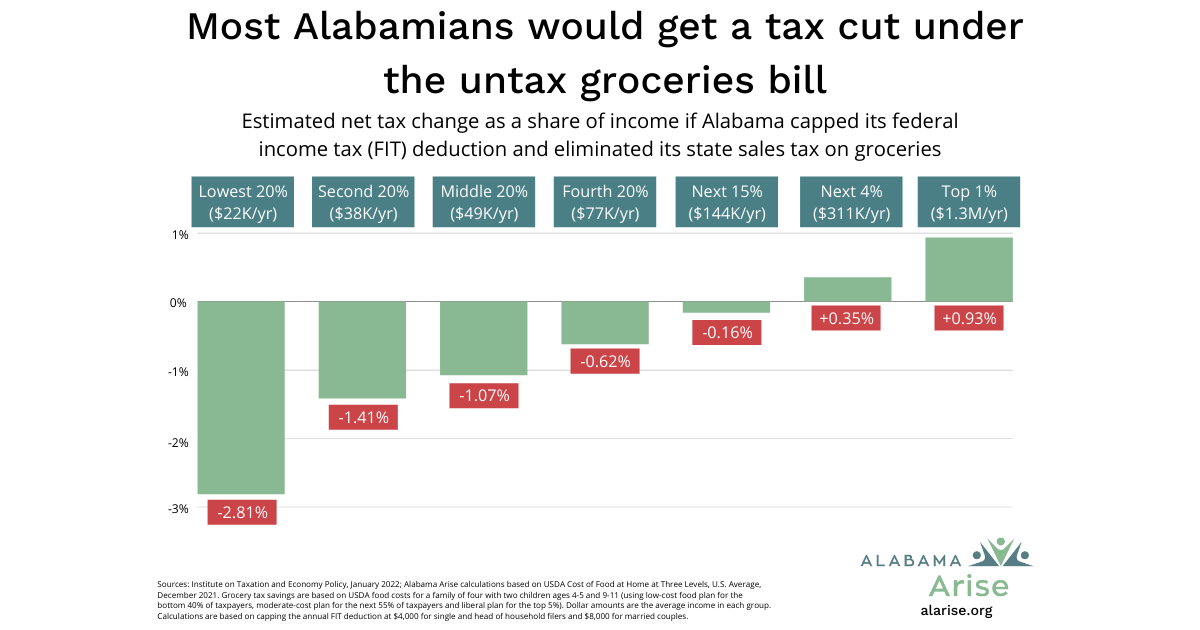 Under SB 43 and HB 173, the FIT deduction cap for Alabamians who file as single, head of household or married filing separately would be $4,000 annually. For married couples filing jointly, the limit would be $8,000 a year. Under McClammy's bill, those annual caps would be $3,500 and $7,000, respectively.
About the poll
Alabama Arise commissioned the poll, which the Montgomery-based firm Cygnal conducted in January. The poll surveyed 631 likely voters across Alabama and has a margin of error of +/- 3.85%. Interviews of known registered voters occurred via live phone calls, online panel, texts and email invitation.
Click here for Arise's poll results on untaxing groceries in Alabama.