Maternal, infant health care debuts as an Arise priority
By Whitney Washington, communications associate
Alabama Arise reached a new milestone in October when more than 500 members voted to determine Arise's 2024 legislative priorities after our Annual Meeting. Nearly 100 members attended the meeting in person at the Equal Justice Initiative's Legacy Institute in Montgomery, while almost 250 attended virtually. Outgoing board president Kathy Vincent led the meeting, which featured presentations from Arise staff and member group representatives.
Six of the seven priorities are returning from our 2023 agenda. Read our news release for more information about each.
A notable newcomer to our roster is a comprehensive approach to maternal and infant health care, which was proposed by ACLU of Alabama. This priority certainly aligns with our ongoing work to expand Medicaid and close Alabama's health coverage gap. And our members decided it was critical for this to become a named priority in its own right. We are starting off strong by hiring a maternal health fellow to support our work to protect coverage during the Medicaid unwinding period.
Advocates have a long road ahead on this issue. Alabama has the highest maternal mortality rate in the nation. And according to the March of Dimes, more than one-third of Alabama's counties are "maternal care deserts."
A safer Alabama for mothers will include access to high-quality maternal health care where patients live, removal of criminal penalties for doctors providing necessary care, and more freestanding maternal care centers across the state.
Alabama's mothers and babies deserve so much better. Arise is committed to creating a safer and healthier state that will give parents, children and every Alabamian the chance to thrive and achieve their full potential.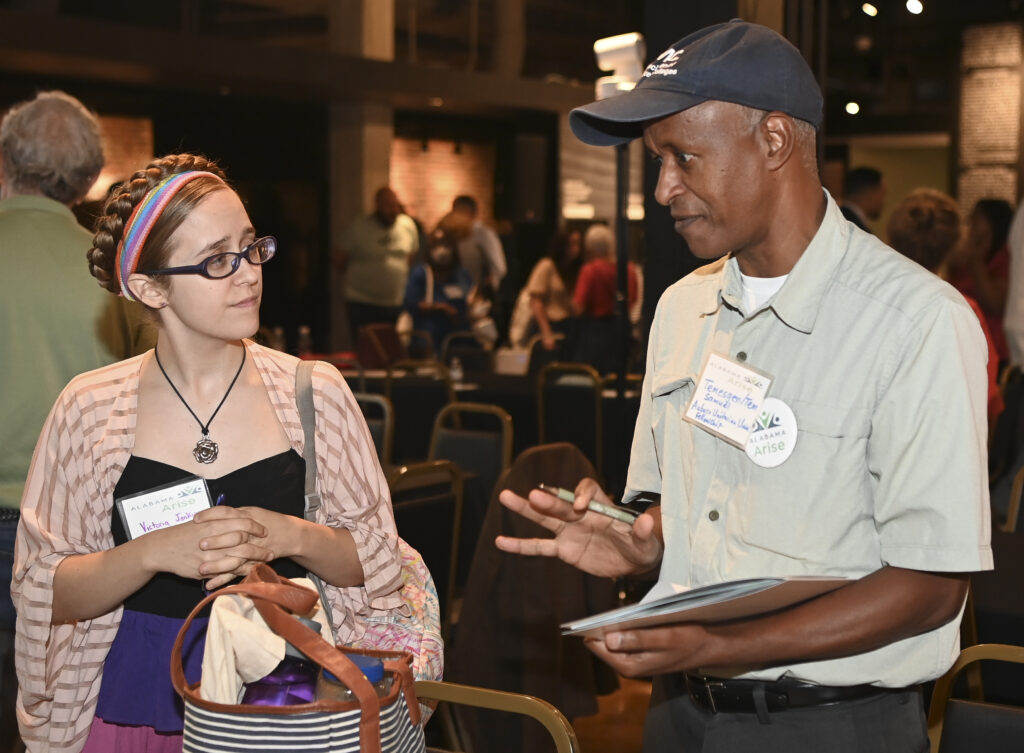 Alabama Arise's 2024 priorities
By Matt Okarmus, communications associate
Alabama Arise is proud to announce our 2024 legislative priorities. Read our news release for more information about each.
Fully untaxing groceries
Expanding Medicaid
Voting rights
Criminal justice reform
Comprehensive maternal and infant health care
Dedicated funding for public transportation
Death penalty reform
"Arise believes in dignity, equity and justice for everyone," Arise executive director Robyn Hyden said. "Our 2024 legislative priorities reflect our members' embrace of those values, and they underscore the need to enact policies that empower Alabamians of every race, income and background to reach their full potential. Together, we're working to build a healthier, more just and more inclusive Alabama for all."
Email Arise organizing director Presdelane Harris at pres@alarise.org to set up an issue preview event in your area ahead of the Legislature's 2024 regular session.
Three strategies to boost Alabama's workforce
By Robyn Hyden, executive director
Alabama's labor force participation rate is among the nation's lowest. Only 57% of working-age adults reported they were actively working or looking for jobs as of September 2023.
Alabama Arise worker policy advocate Dev Wakeley participated in a recent discussion with lawmakers about barriers to workforce entry. He shared Arise's prescription to address this issue, based on clear feedback we've heard from workers. (Read more on our blog.)
Fund the Public Transportation Trust Fund to help workers get to jobs.
Multiple survey groups cited transit access as their top barrier. Alabama must join the rest of our Southeastern neighbors by boosting public transportation investments.
Stop incentivizing employers that fail to deliver on promises to provide good-paying jobs.
Lawmakers this year strengthened some reporting requirements for large economic tax incentives. Those enhancements were critical, but our state must do more. Alabama still ranks among the least transparent states when it comes to corporate tax subsidies. We must ensure that incentives are tied to good-paying jobs with benefits and are evaluated for effectiveness.
Expand Medicaid to keep working-age adults healthy.
Investing in Alabama's health care infrastructure is not just an avenue to create more jobs. It's also a way to keep workers healthy and in the workforce.
Medicaid 'unwinding' hits halfway mark in Alabama
By Jennifer Harris, senior health policy advocate
In April, Medicaid ended a continuous coverage eligibility period brought on by the public health emergency during the COVID-19 pandemic. What followed was a return to traditional eligibility requirements. This return to normal rules is called "unwinding." Coverage losses have begun, and tens of thousands of Alabamians likely will lose their Medicaid coverage by June 2024.
These losses are especially harsh for those who still may be eligible for coverage. When coverage loss occurs for procedural reasons, enrollees may need to submit further information to keep or maintain coverage. To prevent unnecessary coverage loss, please return any application materials to Alabama Medicaid, even if you do not think you are eligible.
If you feel Medicaid terminated your coverage in error, call our partners at ADAP at 800-826-1675 for help.
For more information, please check out Alabama Arise's Alabama Medicaid unwinding toolkit.
Arise, worker advocates celebrate progress
By Dev Wakeley, worker policy advocate
Alabama Arise is working on multiple fronts to improve life for working Alabamians. As part of our ongoing Worker Power Project, we held an Oct. 26 convening in Montgomery with around 20 worker advocacy groups and organized labor partners from across the state. Attendees met to discuss building and implementing a state agenda to build the policy power of working-class Alabamians.
Unions highlighted organizing campaigns at various stages, including the United Mine Workers of America strike and United Auto Workers actions nationwide and in Alabama. They also discussed efforts to empower workers through the recent community benefits agreement at New Flyer, an electric bus manufacturer in Anniston.

Arise previewed this year's forthcoming State of Working Alabama report, which will focus on job quality in the auto industry. Attendees also discussed ways to advance worker-centered policies and defend against anti-worker bills in 2024. And advocates planned how to build and strengthen long-term, strong interorganizational relationships and power for worker organizations throughout Alabama to support growing the collective power of organized labor.
Join us in this season of gratitude
By Jacob Smith, advancement and operations director
In this season of gratitude, I'm thankful for you – our members.
You lead our work by sharing your vision for building a better Alabama. And then you join Alabama Arise in getting to work by taking action and by giving financially.
More than 10% of our financial support comes from members like you. And your giving is important because it gives Arise the flexibility needed to focus on the issues you care about, like access to health care for all and a tax structure that promotes the common good.
Will you join us in this season of generosity? Join or renew your membership with a gift! There are so many ways to give:
A check mailed to P.O. Box 1188, Montgomery, AL 36101.
A gift of stock.
A gift from an IRA, 401(k) or other tax-deferred savings account.
Once you've given, invite your friends, family and network to join you in making a difference! Be sure to share your vision for a better Alabama and how Arise works to make it a reality.
If you have any questions about membership giving or would like more information, please reach out to me at jacob@alarise.org. Thank you for your generosity in this end-of-year season.
Welcome, LaTrell, Malee and Natalie!
LaTrell Clifford Wood joined Arise in November as the hunger policy advocate. In this role, she works at the helm of the Hunger Free Alabama coalition. LaTrell is the youngest daughter and granddaughter of a teacher and three generations of civil rights activists with roots in both west and east Alabama. LaTrell earned her bachelor's degree in history with a minor in fine arts from Stillman College. As a student, LaTrell co-founded Stillman College's Sustainable Healthy Food Initiative Task Force. She went on to serve as chairwoman of the task force and project lead for the Community Garden Project. In 2021, LaTrell made her way to Washington, D.C., with the Congressional Black Caucus Foundation, where she served Alabama's 7th Congressional District as a congressional intern.
Malee Galloway joined Arise in November as the finance and operations associate. She earned a bachelor's degree in political science from Samford University and a master's degree in public administration from the University of Alabama at Birmingham. She is passionate about using her skills in finance and human resources administration to serve Arise's mission. Malee resides in Hoover, and in her spare time, she enjoys spending time with her family, fiance and fur baby, Lincoln.
Natalie Bishnoi joined Arise in November as a development associate. For almost a decade, she has been in coalition-building and fundraising spaces for nonprofits and grassroots organizers in Alabama. She is an accomplished relationship builder with expertise in strategic planning, sales and grant management. Prior to joining Arise, Natalie's work was focused on statewide and regional food systems, local agriculture and food access. Natalie resides in Huntsville, and in her spare time, she enjoys spending time with her children and volunteering in her community. She participates in many grassroots campaigns to demand public accountability and serves on several committees that are focused on community organizing, advocating for criminal justice reform and promoting housing equity.
Arise lifts up health advocates' stories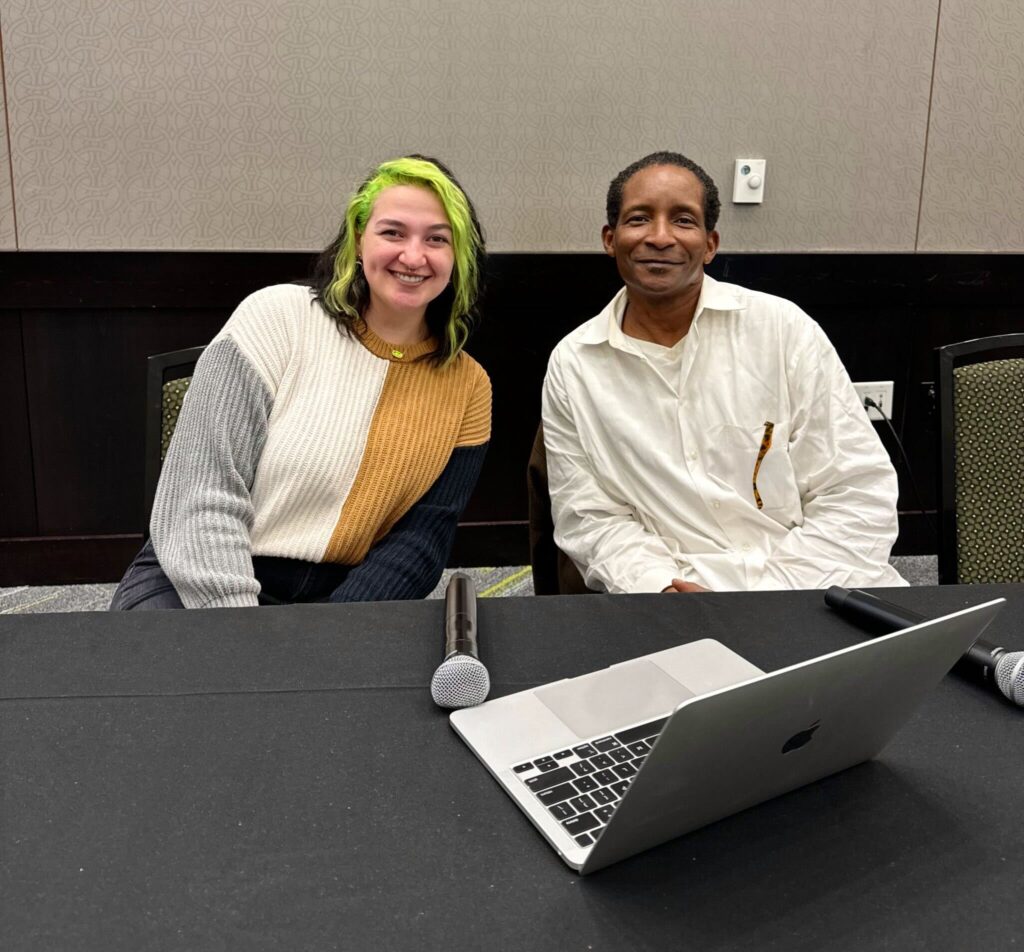 Through our storytelling work, Alabama Arise is elevating the voices of people living in our state's health coverage gap. Two Arise storytellers – Sumiton hairstylist Eryn Mullins and Arise board member Kenneth Tyrone King – joined our Cover Alabama storyteller Whit Sides to speak Oct. 10 at a UAB panel on the human side of Medicaid expansion. Kenneth also spoke at a Nov. 6 event at WorkPlay in Birmingham highlighting the benefits of closing Alabama's coverage gap.
If you or someone you know would like to share your health care story, email Whit Sides at whit@alarise.org.