Alabama Arise and Alabama Appleseed Center for Law and Justice teamed up to produce this report on the history, financial effects and human impact of high-cost payday lending in our state.
The report highlights and executive summary are below. Click here to read the full report, or click the "Download" button at the top of this post.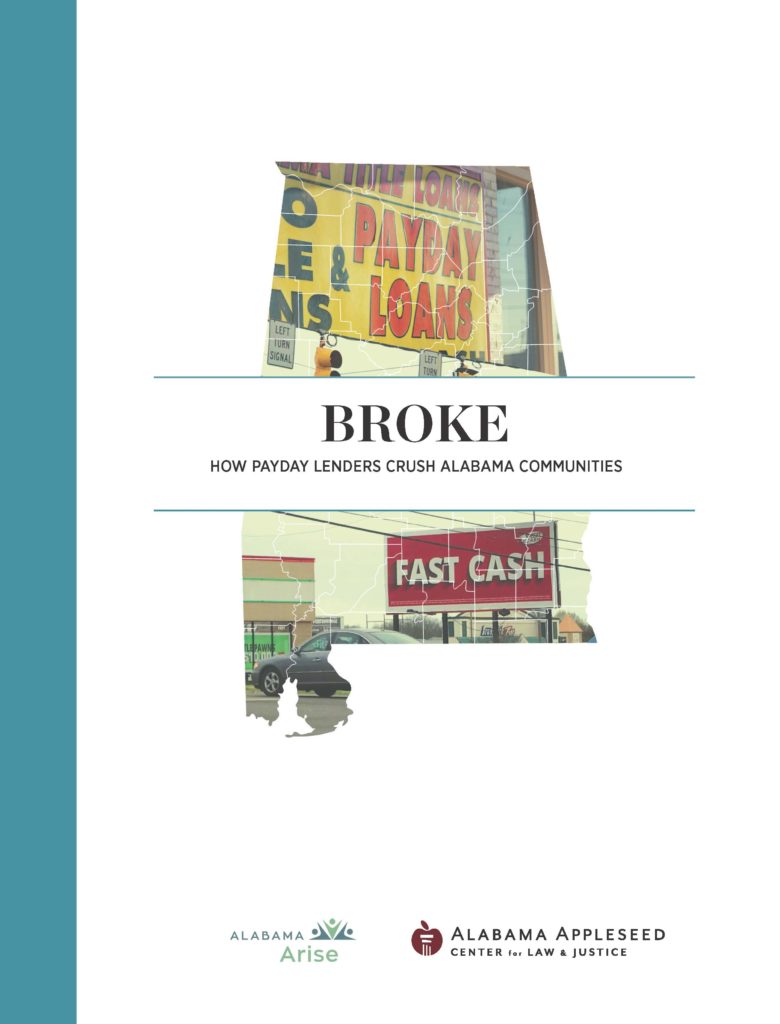 Report highlights
Under state law, payday lenders can charge up to 456 percent APR.
More than 1.7 million payday loans were taken out in Alabama in 2018. Averaged out, that's more than 32,000 payday loans per week.
More than 200,000 Alabamians take out a payday loan every year.
Every year, Alabama borrowers pay more than $100 million in payday loan fees that do not decrease the principal amount owed.
About 85 percent of payday loan borrowers in Alabama take out multiple loans in a year.
16 states and the District of Columbia have passed APR rate caps that keep pay­day lenders out, meaning that 95 million Americans live in communities without pay­day lending. Follow-up studies have shown that access to credit was not significantly impacted for former payday borrowers in these states, who have turned to other means of credit at lower cost.
More than half of Alabamians support banning payday lending (52.5 percent).
73.6 percent of Alabamians support a 36 percent APR cap on payday loans.
74.1 percent of Alabamians support extending payday loan terms to 30 days.
Executive summary
There are more payday and title lenders in Alabama than hospitals, high schools, mov­ie theaters and county courthouses combined. Their business model depends on churning a profit out of desperate, finan­cially fragile customers. Alabama provides them with plenty. About 18.5 percent of peo­ple in Alabama live at or below the poverty line, which is $24,257 for a family of four, making us America's sixth poorest state.
More than three-fourths of American workers report living paycheck to paycheck with little or no savings, making payday lenders a tempting option for many people with financial emergencies. But in Alabama they hurt more than they help. Payday lenders are responsible for bringing financial hard­ship to hundreds of thousands of Alabami­ans and their families every year, swooping in to extract profits from the struggles of hard-working people. Unless the state Leg­islature decides to act, the scourge of preda­tory payday loans will continue to decimate family budgets and local economies.
The Consumer Financial Protection Bu­reau defines a payday loan as "a short-term, high-cost loan, generally for $500 or less, that is typically due on your next payday." These loans are not hard to get: all a prospective bor­rower must do is provide proof of income and not exceed $500 in total payday loan princi­pals at any given time. There is no assessment of the borrower's ability to repay the loan, nor are there credit checks. Borrowers are asked to write a post-dated check for the full amount of the loan plus $17.50 per $100 bor­rowed. Once they sign the check and a con­tract, the deal is done — sometimes in mere minutes. Across Alabama, nearly 5,000 pay­day loans are taken out every single day.
Though made out to be easy and fast, for most borrowers, these loans create long-term damage. The loans are not designed to be used as advertised. The fine print on pay­day loans includes annual percentage rates (APR) up to 456 percent. With astronom­ical rates like that, "small-dollar," "short-term" loans frequently become expensive, multi-year burdens for Alabamians. And because we know that 85 percent of payday loans are taken out to cover emergencies or bills like rent, groceries or utilities, we know that these long-term burdens are only mak­ing hard times harder for families across the state. When these lenders sap our neigh­bors' household budgets and drain money from our local economies, we all lose.
In 16 states and the District of Colum­bia, rate caps prevent payday lenders from operating. This includes our pro-business, Southern neighbors of Georgia, North Car­olina and Arkansas. There are 95 million Americans who live in communities where payday lending is no longer permitted, and if current trends continue, that number will only grow as more states protect their residents from these deceptive financial products. So far, Alabama has not. As a result, the state has the third highest concentration of payday lenders in the nation, and the payday lending industry extracts more than $100 million from the pockets of low- and middle-income Alabama borrow­ers every year in loan fees.
Predatory lending is a highly prof­itable activity. Over the next decade, lenders are on pace to take more than a billion dollars out of Alabama. Most of that total will be siphoned out of neighborhoods and communities bad­ly in need of those dollars. The money will flow to out-of-state companies headquartered in states like Ohio, Illi­nois, Kansas and South Carolina, and it will deepen the economic difficulties of the Alabamians left behind.
This report brings together pay­day loan usage data for the state of Al­abama (2015-2018), statewide public opinion polling data, and interviews with borrowers, direct service providers and faith leaders across the state. We found a lending system that has harmed tornado victims, families with disabled children, vet­erans, and a mother with a good job who just needed her car repaired.
The overwhelming majority of Alabam­ians want to see payday lending either sig­nificantly reformed or banned from our state entirely. It is time for lawmakers to listen to the voices of their constituents and address the harms caused by predatory payday lenders.
Full report
Click here to read the full report, or click the "Download" button at the top of this post.