When the COVID-19 pandemic hit last March, one Huntsville small-business owner's life started to take a very different shape.
"If I told you, you wouldn't even believe me," said Cortney Brown, a licensed massage therapist who owns PANACEA: Feng Shui & Medical Massage in Huntsville.
Forced to close her studio for three months, Cortney had to make some tough decisions. How would she make ends meet? How would she find a way to keep her business afloat while affording personal needs like food, rent and transportation?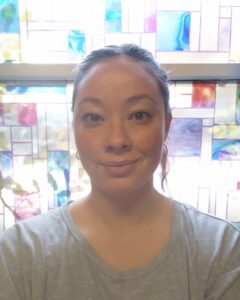 "I've never been afraid to ask for help," said Cortney, describing the values she learned as a "military brat" growing up in Louisiana, Alabama and Washington.
So that's when she got to work.
"I was up for anything and began to ask around for anything I could do to pay my bills," she said.
Cortney started taking day-labor jobs in landscaping and construction, picking up gigs where she could find them. When that still wasn't enough, she had to dip into savings to stay afloat.
Cortney is one of 51 million American adults who live with a mental illness. She was diagnosed with bipolar II disorder and PTSD after panic attacks brought on by childhood trauma. She has spent lots of time learning more about her symptoms in the years afterward.
"My mind was like a TV channel I couldn't turn off," she said. "These negative and racing thoughts that had always been with me… I started to have the tools to feel like I could handle them for the first time in my life."
A health breakthrough and a coverage setback
After getting her diagnoses, Cortney discovered she could afford all her treatment, therapy and prescriptions through a Medicaid expansion program offered by the state of Washington. Washington was one of five states that opted to expand Medicaid early in 2011, shortly after passage of the Affordable Care Act.
She began trying new treatments to help address everyday symptoms, including taking a form of the drug lithium. She also continued to research the best ways to manage her new diagnosis.
In 2014, it was time for a change. Cortney moved back to Alabama for some "sunshine and family."
Though she enjoyed her years in the Pacific Northwest, she missed the South. She was excited to come back to Alabama – where she grew up – to start her business.
What she didn't realize, though, was that Alabama is one of 12 states that have not expanded Medicaid.
Even before the COVID-19 pandemic, Medicaid expansion would have benefited more than 340,000 Alabamians who are uninsured or struggling to afford coverage. Cortney is one of more than 50,000 women in Alabama who are working but are still in the Medicaid coverage gap.
"I went to see a therapist one time and haven't been able to go back since," Cortney said. "I didn't realize I would have no insurance here. It's scary."
Cortney worried she would be forced to go back to square one after she'd finally begun to understand and manage her symptoms day-to-day. She felt like she had made so much progress and didn't want to lose it all.
The struggle to find health coverage
The safety net she had back home in Washington was no longer an option. And being new to Huntsville, she didn't know what resources were available to folks like her.
Alabama consistently ranks among the lowest states in the country when it comes to mental health care access even for people with private insurance. Right now, Cortney can only afford one or two mental health visits a year out of pocket.
"Alabama's system is so different compared to what I had," she said. "I feel like I am just getting through by the skin of my teeth."
Receiving medical care is especially important for folks with a diagnosis like Cortney's. Regular care can help manage intrusive thoughts, anxiety and other symptoms.
"With my mania, even when things are going great, I need to verify that everything is really going good and that it's not all just in my head," Cortney said.
That means checking in to validate she's on the right track as far as treatment, behaviors and medicine.
In 2019, Cortney's small business picked up, and she was hopeful that she now could afford health insurance to pay for more regular care. So she did what tens of thousands of Alabamians do each year: She went onto healthcare.gov to see if purchasing a marketplace health insurance plan was an option.
But she said she was only eligible for two plans: one with a prohibitively high monthly premium and another with an excruciating deductible.
"My deductible was going to be $7,000," Cortney said. "That's crazy! I saved for two years just to have $6,000 to keep my business afloat. Where is someone supposed to just find $7,000 in an emergency like that?"
Piecing together treatments out of pocket
As COVID-19 cases began to rise, Cortney's income decreased significantly, moving her back into Alabama's Medicaid coverage gap.
"That's when I started having to go off the book to treat myself," she said.
She began seeking out alternative treatments since she couldn't afford appointments with a psychiatrist or attend therapy.
"Sometimes I would call the suicide hotline, in a crisis, because it was all I had. And after, I would feel so bad," Cortney said. "I felt guilty for using it as a way to treat myself because there could be so many other people who need it more than me."
After offering natural treatments to her everyday clients, she found something to take daily that she was comfortable with for her own symptoms. Her current treatment involves taking an herbal supplement that comes in a three-month supply.
"I don't know how much runway I have on that," Cortney said. "I mean, it's easy to lie to myself and say that things are working when they might not be."
Cortney said that without insurance, she'll continue paying a couple hundred dollars out of pocket for yearly medical exams. Her plan going forward involves putting a major focus on preventive care as she gets older.
"I feel like I'm walking this tightrope that could disappear at any moment," Cortney said. "Even if I'm in a good place sometimes, it should be that way all of the time. You know what I mean?"
Mental health resources for people in Alabama's coverage gap
Alabamians in the coverage gap shouldn't have to face a mental health crisis alone. Many local and statewide nonprofits work to serve those who can't easily access mental health care because of the state's failure to expand Medicaid.
Thomson McCorkle, executive director of Wings Across Alabama, encourages those facing loneliness or looking for help without insurance to reach out. (Wings Across Alabama is a partner in the Cover Alabama Coalition.)
"We have what we call a 'Warm Line' open to anyone who needs immediate help or even those who just need to talk," McCorkle said.
For everyone who works at Wings Across Alabama, he said, their work is not just a job. It's personal. As a consumer-based organization, everyone on staff has a mental health diagnosis of their own and is trained as a certified peer specialist. They know what it's like to navigate the health care landscape alone.
"I wanted to help people," McCorkle said. "I know that the income gap in the U.S. is growing and people slip between the cracks sometimes in the traditional or current mental health care system. We provide services for everyone, so it's something I appreciate and believe in."
The biggest hope for 2021: Medicaid expansion
Fortunately, 2020 wasn't a complete wash for Cortney.
Her business was able to reopen in the fall under careful COVID-19 protocols. And Cortney's family has been a source of strength throughout the past year. She plans to celebrate marrying her partner alongside family and friends as soon as they are able.
Cortney said her biggest hope for 2021 is for Alabama to expand its Medicaid program to include small-business owners and gig-economy workers like her.
"I have done so much for myself to plug the dam. I save up and I make things work in every situation," Cortney said. "I just really hope that one day soon, Alabama steps it up so that more people get the help they need."
About Alabama Arise and Cover Alabama
Whit Sides is the story collection coordinator for Alabama Arise. Arise is a nonprofit, nonpartisan coalition of congregations, organizations and individuals promoting public policies to improve the lives of Alabamians with low incomes.
Arise is a founding member of the Cover Alabama Coalition. Cover Alabama is a nonpartisan alliance of nearly 100 advocacy groups, businesses, community organizations, consumer groups, health care providers and religious congregations advocating for Alabama to provide quality, affordable health coverage to its residents and implement a sustainable health care system.