Arise urges 'Yes' vote on recompiled constitution
By Mike Nicholson, policy analyst
Alabama Arise is committed to recognizing, teaching about and repairing the damage that state lawmakers perpetrated for generations through codifying racism and racist practices. Racist language and the harmful provisions flowing from it have no place in our state's most important legal document.
Alabamians will decide on Nov. 8 whether to remove racist language from the state constitution by adopting a recompiled constitution. Examples of deleted language include references to separate schools for Black and white children and prohibition of interracial marriages. Arise recommends voting "Yes" on the recompilation, which will appear on the ballot as the Constitution of Alabama of 2022.
The changes in the recompilation wouldn't address all of the problems with Alabama's constitution, including harmful limits related to tax policy and local governance. But they still would move Alabama, and our constitution, in the right direction. Arise urges Alabamians to vote "Yes" to help move our state forward.
For more information on the recompilation, see our fact sheet.
Alabama Arise's 2023 policy priorities
By Chris Sanders, communications director
More than 400 Alabama Arise members selected our 2023 legislative agenda following our Annual Meeting on Sept. 24. The seven priorities chosen were:
Tax reform
Adequate budgets for human services
Voting rights
Criminal justice reform
Death penalty reform
Public transportation
Payday and title lending reform
"Our 2023 policy priorities reflect the need to work together to break down policy barriers that keep people in poverty," Arise executive director Robyn Hyden said. "We must build a healthier, more just and more inclusive future for our state."
See our news release for more on our priorities. And email Arise organizing director Presdelane Harris at pres@alarise.org to set up an issue preview event in your area ahead of the Legislature's 2023 regular session.
Annual Meeting 2022
Alabama Arise held our first hybrid Annual Meeting on Sept. 24, both in person at Aldersgate United Methodist Church in Montgomery and virtually on Zoom. We thank the hundreds of members who joined us across both spaces.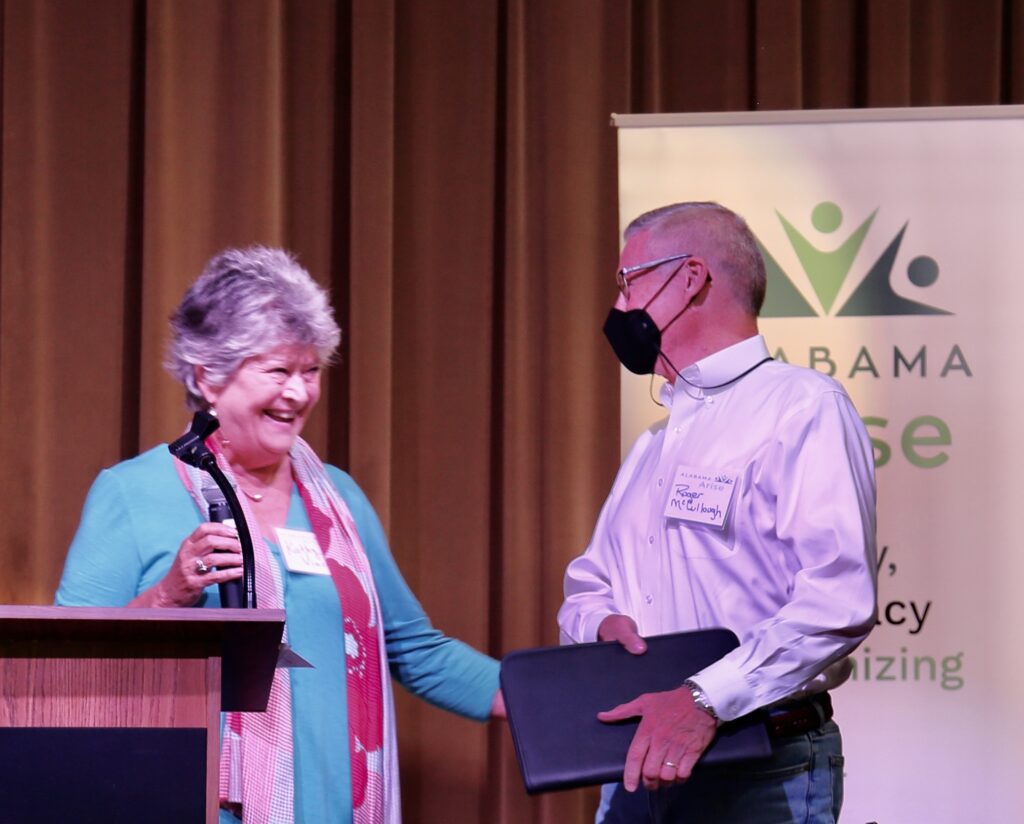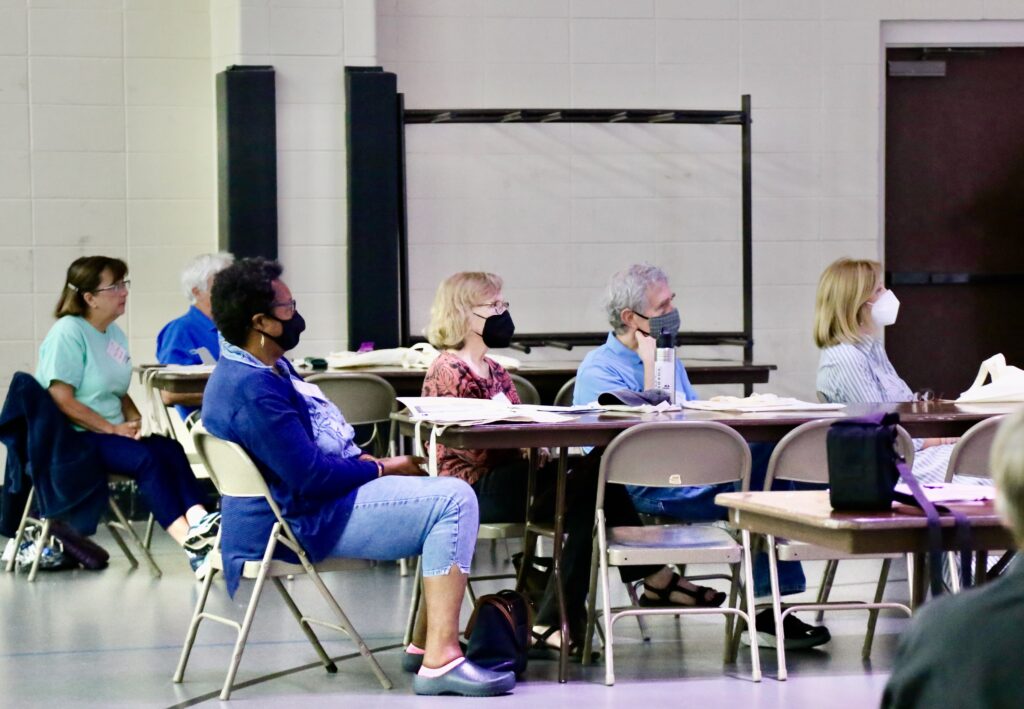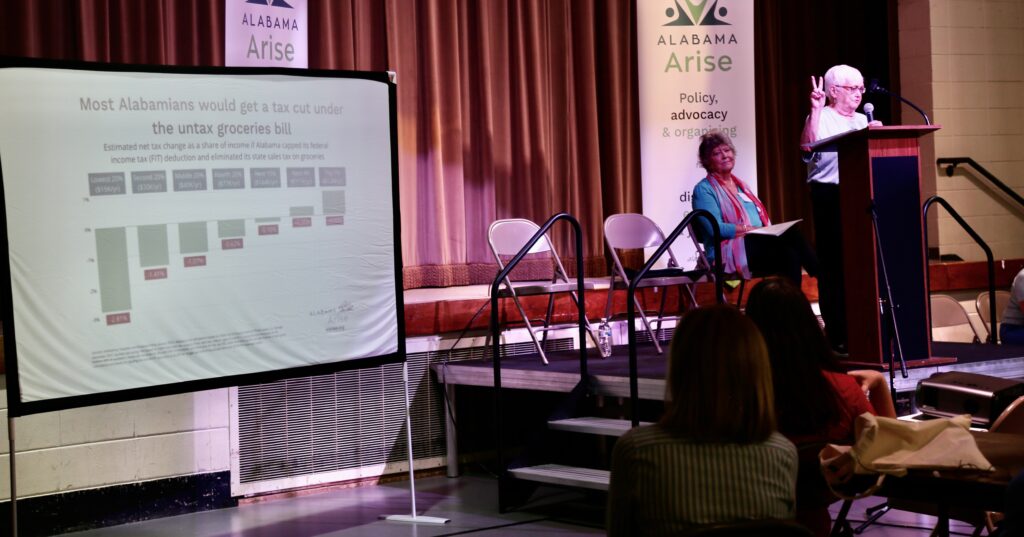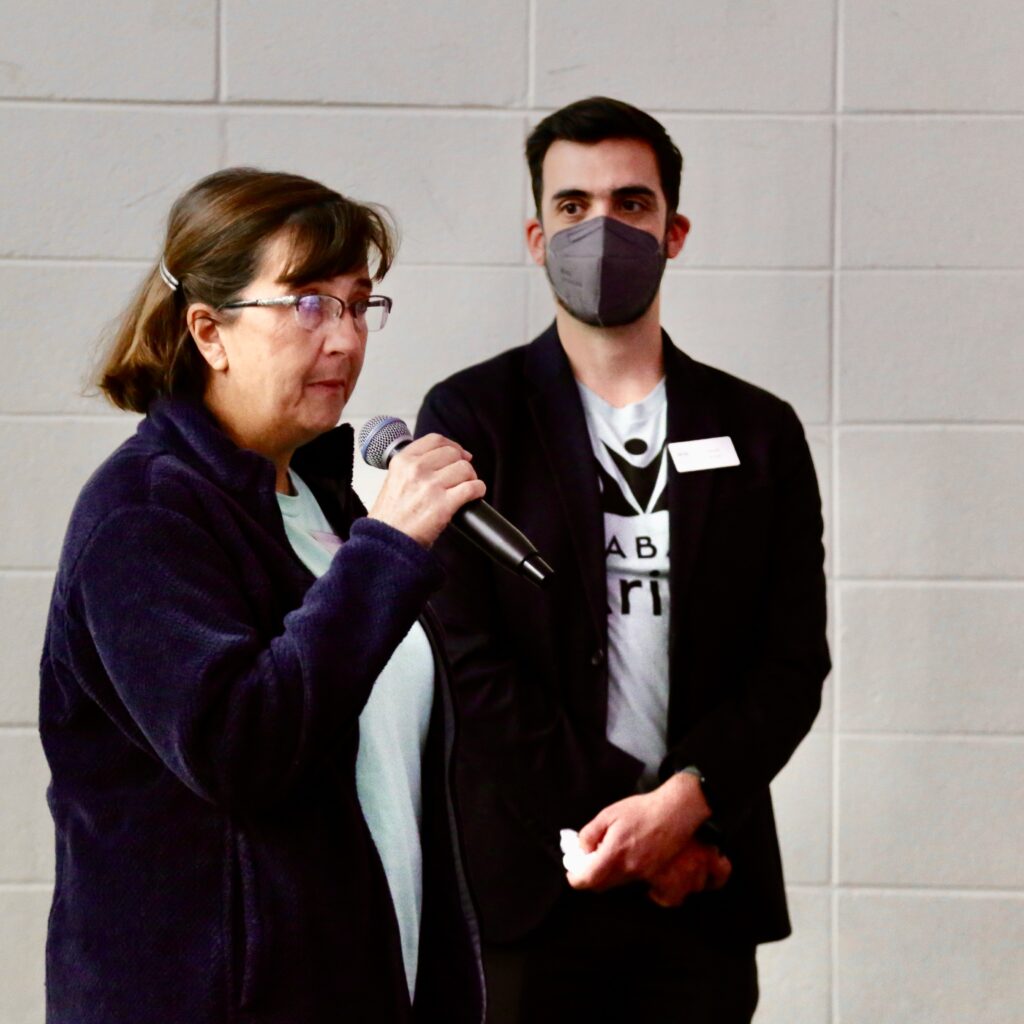 First photo above: Arise board president Kathy Vincent embraces outgoing board member Roger McCullough. Second above: Former executive director Kimble Forrister (right) and other members listen to issue presentations. Third above: Arise senior policy analyst Carol Gundlach gives an update on budgets and tax reform. Fourth above: A member asks a clarifying question as Arise development director Jacob Smith listens.
Click here to see more pictures from our in-person event!
A sincere thank you
By Robyn Hyden, executive director
As I reflect on our 2022 Annual Meeting and dive into planning for our 2023 agenda, I simply want to say thank you for your generous contributions, advocacy and support.
This July marked the beginning of my fifth year as executive director, and next year will mark 35 years since Alabama Arise was founded. The COVID-19 years have stretched us to adapt in new ways. I couldn't be more grateful for the ways our dynamic staff, supporters and board leaders have navigated these changes as we continue learning, growing and doing new things together.
As we look ahead to fall and winter, we're doubling down on hybrid opportunities to engage members and grassroots constituents. We're looking at how we engage the broadest base possible to achieve our goals. And we're striving to meet the needs and goals identified by you, our members.
Thank you for charting our agenda and joining us to continue our forward momentum. When we push together, change is on the horizon.
Together, our members make a difference!
By Jacob Smith, development director
There's something about the approaching winter holidays that brings out the generous nature in all of us. We all want to do our part and work together to build community and a better Alabama.
At Arise, we're grateful for your giving. Almost 13% of our financial support comes from members like you. When you give, we have the flexibility needed to focus on you and your priorities. We believe people from every community must be engaged in the state and federal policymaking process to effect real and lasting change.
Will you help us grow our membership? If you haven't already, join or renew your membership with a gift. There are so many ways to give:
A one-time or monthly gift online at alarise.org.
A check mailed to P.O. Box 1188, Montgomery, AL 36101.
A gift of stock.
A gift from an IRA, 401(k) or other tax-deferred savings account.
Once you've given, invite your friends, family and network to join you in making a difference! Or invite a group you're in to join as a member group! Share why you're a part of Arise and how you partner with us.
If you would like more information, please email me at jacob@alarise.org. Thank you for your generosity in this end-of-year season.
Arise helps strengthen fight against cervical cancer
By Whitney Washington, communications associate
Six Black women from Alabama's Black Belt region assembled In a meeting room at downtown Birmingham's Westin Hotel on Aug. 26-28 for a weekend of intense and insightful advocacy training. The weekend served as this cohort's introduction to both each other and the material they'll be learning. And Alabama Arise had the privilege of being part of the event.
Arise health policy advocate Jennifer Harris will spend the next few months guiding these incredible women through various training sessions through a partnership with the Southern Rural Black Women's Initiative for Economic and Social Justice (SRBWI) and Human Rights Watch. These women have been tasked with reducing rates of cervical cancer in their communities, and they are up to the challenge.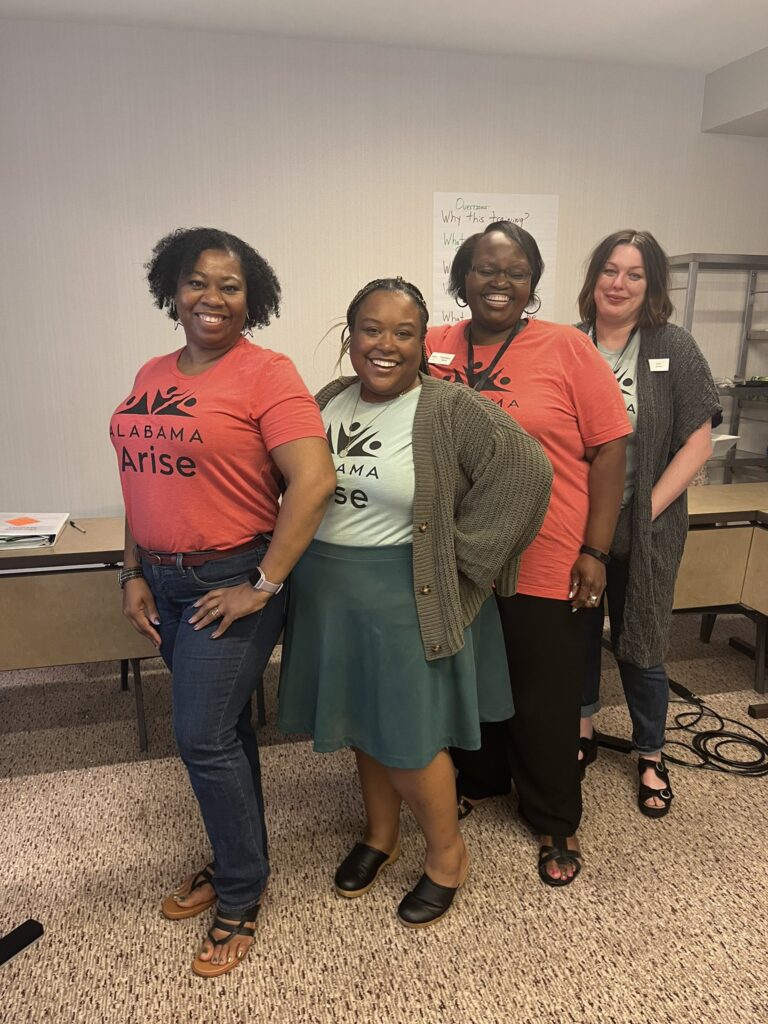 The scope of the challenge
Why the focus on cervical cancer? Consider these sobering statistics:
Black women die of cervical cancer at 1.5 times the rate of white women in the United States.
In Alabama, Black women die of cervical cancer at nearly twice the rate of white women.
With the HPV vaccine, cervical cancer is nearly entirely preventable.
The Black Belt region is especially hard hit due to lack of access to health care.
"Research is clear on the best possible outcomes in ideal situations. But the reality is far from ideal for many women in rural Alabama," Harris said. "Less access to health care, the need for more preventive education, and barriers such as a lack of transportation increase these health disparities for too many families.
I was lucky to meet these women and work with my colleagues in creating a helpful curriculum for the weekend. Arise executive director Robyn Hyden charged right into advocacy training at the event. Her sessions described the role of advocates, how to talk to legislators and how to get bills passed.
The SRBWI conference and the Black Belt cohort training were an incredible opportunity to see some of the often invisible organizing and community-building work happening across Alabama. People long neglected by institutions and lawmakers are finding creative ways to take care of themselves and their communities. And Arise is committed to working alongside them to amplify their voices and lift policy barriers standing in their way.
Read more about this powerful weekend on our blog.
Child Tax Credit boost cuts child poverty to record low
By Chris Sanders, communications director
People-friendly policies like the Child Tax Credit (CTC) can and do reduce poverty. The 2021 U.S. Census data released last month delivered eye-opening proof of that fact, revealing a dramatic nationwide reduction in child poverty fueled largely by a temporary CTC expansion.
By itself, the CTC expansion kept 5.3 million Americans above the poverty line, data showed. The one-year improvement, enacted as part of the American Rescue Plan Act (ARPA), made the full credit available to children living in families with low or no earnings. It increased the maximum credit to $3,000 per child and $3,600 per child under age 6. And it extended the credit to 17-year-olds.
CTC expansion helped reduce disparities for Black and Hispanic children. It also drove the U.S. child poverty rate to a record low of 5.2% under the Supplemental Poverty Measure (SPM). Unlike the traditional poverty measure, the SPM reflects the poverty-reducing effects of tax credits and non-cash benefits like food assistance.
The CTC expansion expired in 2022 after Congress failed to renew it. But federal lawmakers will have an opportunity to revisit that decision when they return to Washington later this fall.
"The success of the Child Tax Credit expansion was undeniable," Alabama Arise executive director Robyn Hyden said. "This policy slashed child poverty and helped families make ends meet across our state and our country. Congress needs to renew the Child Tax Credit expansion and make it permanent. And our state lawmakers should do their part to help Alabama families keep food on the table by ending the state grocery tax and replacing the revenue in a responsible way."