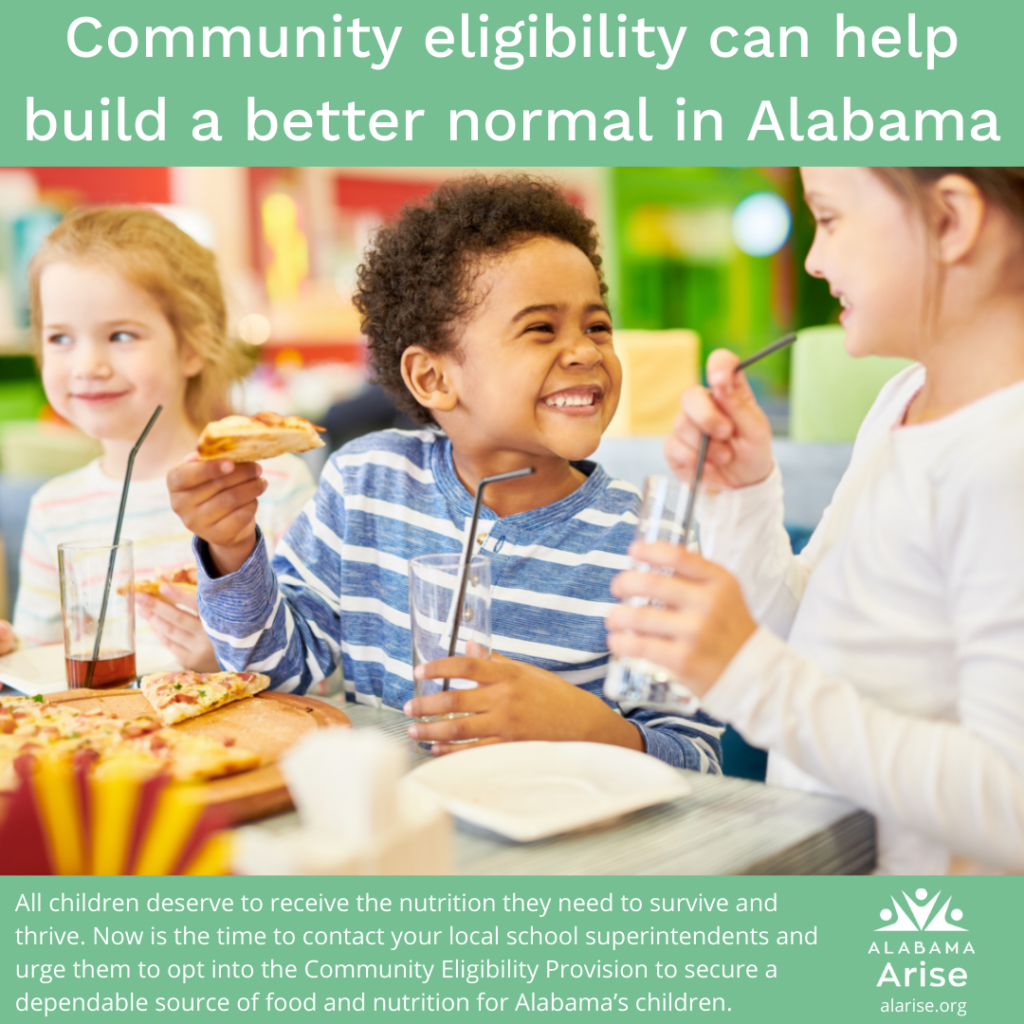 At least one in four children experience hunger in Alabama ‒ a terrible reality even before the onslaught of COVID-19. Many gaps already existed in policies surrounding fair access to food and nutrition in our state. And the pandemic abruptly reminded policymakers of the importance of maintaining fortified safety net systems.
State agencies swiftly stepped up to ensure Alabama was on the forefront of implementing support systems. One particularly important program has been Pandemic EBT (P-EBT), which offers extra money for food during months when children are out of in-person school.
Information gathered from street-level story collection revealed that caregivers were grappling with drastic changes to their work environments, as well as new learning environments for their children. In many instances, "going to work" and "attending school" happened in the same place ‒ the family's kitchen or living room.
Meanwhile, school districts were left to decipher complex and rapidly changing federal guidelines for serving school meals. Alabama's schools found innovative ways to reach their students with nutritious meals, but not without overcoming many challenges.
Schools with community eligibility had a head start on pandemic response
Some school districts faced more challenges than others in serving school meals during the pandemic. Schools that opted into the Community Eligibility Provision (CEP) before the pandemic were best prepared to provide meals quickly because time-consuming eligibility considerations were not a factor. Child nutrition staff could focus instead on feeding families.
CEP is a federal option available to schools and districts where at least 40% of students meet the family income requirement for free and reduced-price meals. Eligible schools can use this option to serve breakfast and lunch at no cost to all of their students.
Schoolwide eligibility means no burdensome application requirements for struggling families, less time-consuming data and fee collection for school administrators, and no embarrassing lunch-line interactions for students with low balances. It's a win-win for all.
Additional flexibility to keep children fed
This reality was clear to federal agencies tasked with determining food and nutrition policies during the pandemic. And the U.S. Department of Agriculture (USDA) handed down a series of school meal waivers to ensure schools could serve meals outside of the usual cafeteria setting. The first, the Summer Food Service Program (SFSP), is a federally funded, state-administered program that reimburses community providers who serve free healthy meals to children and teens in low-income areas during the summer months when school is not in session.
The USDA Food and Nutrition Service (FNS) also recognized that schools needed "additional support and flexibility to continue serving meals to children while maintaining appropriate safety measures and managing the impacts of COVID-19." In response, FNS issued a waiver allowing states to receive funding to operate a seasonal feeding program called Seamless Summer Option (SSO) beyond the summer months through the entire 2021-22 school year.
These programs play an important role in offering much-needed financial support to schools and communities. During a time when much is uncertain, one truth is indisputable: Programs that facilitate universal school meals at no cost ease fears and concerns for both school districts and families.
Community eligibility can help build a better normal in Alabama
A new wave of COVID-19 and a new school year bring a new round of uncertainty. But even as community activities resume, Alabamians with low incomes will experience the strongest aftershocks of pandemic-era disruptions. For this population, "things going back to normal" means scarce resources and disjointed avenues to accessing even the most basic resources, like food.
The pandemic taught us many lessons. Most notably, we learned that reliable sources of food and nutrition are vital to extending a sense of support and stability to communities. SFSP and SSO strengthened the safety net during uncertain times, but these programs are temporary. CEP offers a more stable, reliable, enduring system for serving school meals to all children, at no cost to families.
All children deserve to receive the nutrition they need to survive and thrive. Now is the time to contact your local school superintendents and urge them to opt into the Community Eligibility Provision to secure a dependable source of food and nutrition for Alabama's children.