Donate & Join Arise
Donate to join Alabama Arise today!
Thank you for your tax-deductible gift to support Arise's policy analysis, statewide organizing and citizen advocacy. You are making a difference in the lives of Alabamians with low incomes. When you donate, you also become a member of Arise. Memberships last for one year.
Read more below about the benefits you receive when you join!
Click on the icons to learn more!
Donate by check
P.O. Box 1188, Montgomery, AL 36101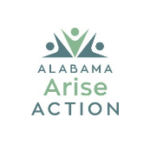 Alabama Arise Action is the 501(c)(4) partner organization of Alabama Arise. Alabama Arise Action engages in direct lobbying at the Legislature. Our 501(c)(4) is funded by member groups and individual members. You can find its website here.
When you donate to Alabama Arise, you join the ranks of our community of about 1,500 individual members and 150 member groups across the state. As a member-based organization, members like you are at the heart of our work. Together, we stand in one voice for a better Alabama. Here are some of the benefits you receive when you join Arise:
Connect with caring people across the state to build a better, more inclusive Alabama for all.

Vote on Arise's annual policy priorities and elect our board of directors.

Access insider policy resources and guides, such as the Daily News Digest, weekly Legislative Updates during the session and quarterly newsletters sent to your mailbox.

Work directly with our organizers and lobbyists to advocate for the causes you care about, including access to the latest policy research to share with your legislator.

Plus, you will receive a free Alabama Arise membership pin!
Do you want to join as a member but can't afford a membership, or are you interested in gifting a membership to someone in your life? Email development associate McKenzie Burton at mckenzie@alarise.org for more information about our gift membership program.