Funding for education, health care and other vital services is deeply uncertain as Alabama's revenues plummet during the COVID-19 recession. In May, lawmakers enacted 2021 Education Trust Fund (ETF) and General Fund (GF) budgets that are larger than this year's. But as consumer spending falls and massive unemployment persists, the Legislature will reevaluate those plans at hearings in early July.
Alabama's bleak financial picture likely will force lawmakers to return for a special session later this summer or fall. And that's far from the only subject they should address.
The pandemic has brought new urgency to the need to reduce overcrowding in state prisons, where social distancing is impossible. It has shown why legislators should undo harmful limits they imposed on unemployment insurance (UI) eligibility last year. And it has put unprecedented strain on our state's health care infrastructure, particularly hospitals and clinics serving rural Alabamians. Medicaid expansion would provide financial stability for many of these facilities, helping them stay open during the pandemic and beyond.
A lost session
COVID-19 tore out the heart of the regular session, forcing lawmakers to stop meeting for more than a month. When they returned, they had just two weeks to finalize ETF and GF budgets. With most House Democrats staying home due to coronavirus concerns, legislative leaders limited the agenda to budgets and local bills.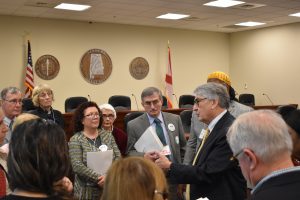 That decision temporarily slowed momentum for Arise's push to untax groceries. Before the session paused, about 200 people came to Montgomery for Arise Legislative Day on Feb. 25. Our members urged legislators to end the state sales tax on groceries while protecting education funding. The proposal would replace grocery tax revenue by limiting Alabama's income tax deduction for federal income tax payments. Our supporters also advocated for Medicaid expansion and public transportation funding.
Whenever the Legislature returns, Arise will be there promoting policies to make life better for struggling Alabamians. Check our website and follow us on Facebook and Twitter for updates.