They're the folks who keep things going: the people who serve food at restaurants, bag groceries, patch roofs and repair cars. They're Alabamians with economically essential jobs that pay low wages.
But tens of thousands of these workers have no health coverage. As a result, they often struggle with health problems that sap productivity, add stress to their households and get worse without timely care.
Imagine what it would mean to the state's business community to have a workforce with access to regular health care. And more importantly, imagine the peace of mind that coverage would bring for workers and their families.
Most uninsured Alabamians aged 19 to 64 who would qualify for expanded Medicaid coverage (those earning below 138% of the federal poverty level) are workers. The graphic below shows the nine industries employing the largest number of these workers. More than 70,000 work in food service, sales or construction.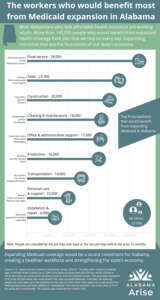 Overall, more than 180,000 Alabama workers would gain health security from Medicaid expansion. Our businesses would gain a more reliable workforce. And our economy would gain billions of federal dollars, stronger tax revenues and thousands of new health care jobs.
Alabama Medicaid has succeeded in providing health care for children, people with disabilities, and seniors living in nursing homes. Our state can build on these gains and make coverage affordable for the workers we all depend on every day.