Filling out your Census form is quick and easy. It only takes about 10 minutes to answer 10 questions. You won't have to do it again for 10 years. And your answers are completely confidential.
It may not seem like much, but the stakes are high. The accuracy of Alabama's 2020 Census count will shape our state and local communities every day. Census results determine how many U.S. House members represent each state. They also guide the distribution of more than $700 billion in federal resources every year.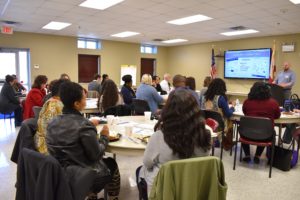 That money funds health coverage through Medicaid and the Children's Health Insurance Program (CHIP), known as ALL Kids in Alabama. It also supports Head Start, the Supplemental Nutrition Assistance Program (SNAP) and many other services that help struggling families.
Census outreach across Alabama
Alabama Arise is part of a statewide effort to protect these programs by getting as many Alabamians counted as possible. We've teamed with VOICES for Alabama's Children to travel to as many counties as we can to meet with folks and come up with a plan to make sure everyone is counted. We're providing information and assistance to grassroots partners so they can help their communities understand how the Census affects Alabama.
Please help us spread the word. In the coming weeks, we'll share more information about the Census' importance and tips on persuading your community to participate. No one is a better messenger for your community than you, and Alabama's future depends on it!