Sentencing reform and voting rights expansion are two key goals on Alabama Arise's 2022 legislative agenda. Members voted for Arise's issue priorities this week after nearly 300 people attended the organization's online annual meeting Saturday. The seven issues chosen were:
"Arise believes in dignity, equity and justice for all Alabamians," Alabama Arise executive director Robyn Hyden said. "Our 2022 issue priorities would break down many of the policy barriers that keep people in poverty. We must build a more inclusive future for our state. And together, we will."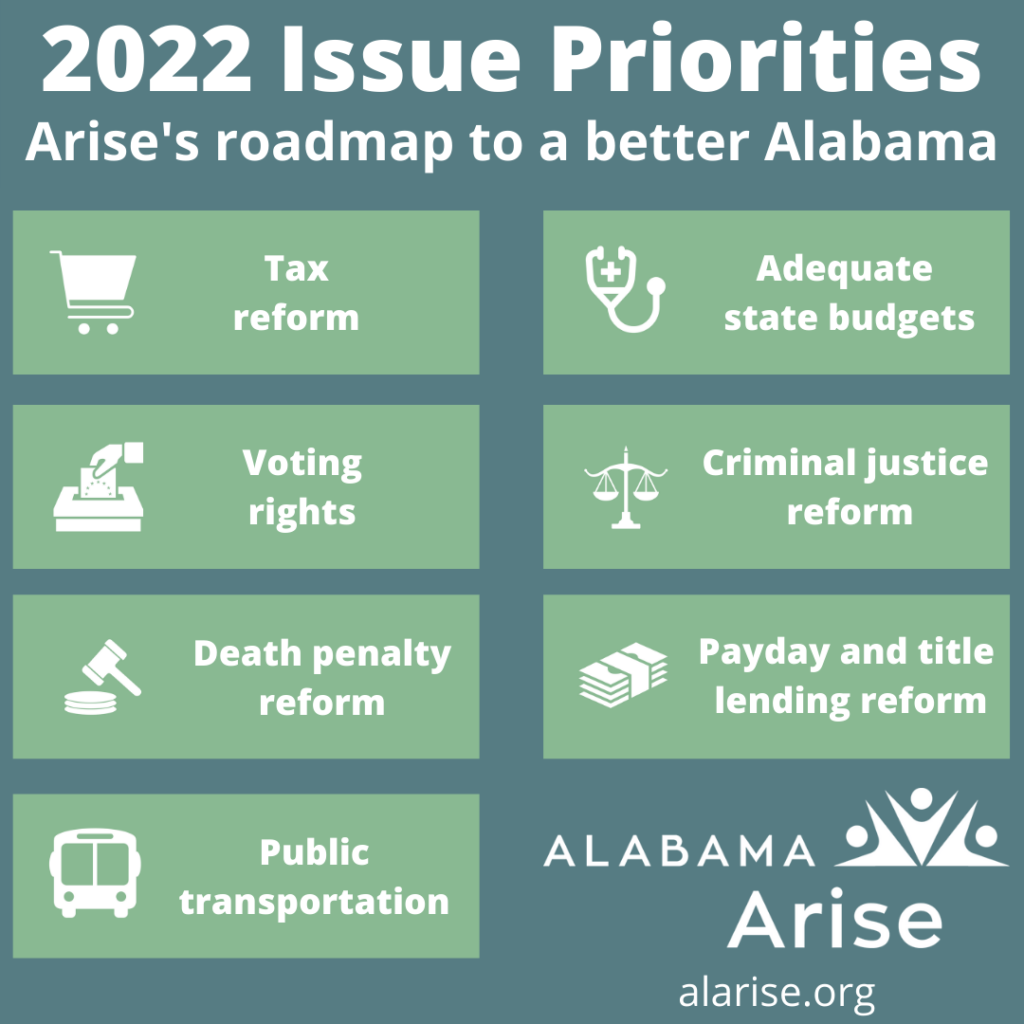 The urgent need for criminal justice reform
Alabama's criminal justice system is broken, and its prisons are violent and dangerously overcrowded. Exorbitant court fines and fees impose heavy burdens on thousands of families every year, taking a disproportionate toll on communities of color and families who already struggle to make ends meet. And Alabama needs investments in mental health care, substance use disorder treatment, community corrections and diversion programs to help stem the tide of mass incarceration.
Lawmakers' plan to spend hundreds of millions of dollars on new prisons is not an adequate solution to these problems. Alabama must enact meaningful sentencing and reentry reforms to make its corrections system more humane and effective. Legislators took a good first step during this week's special session by passing a bill by Rep. Jim Hill, R-Moody, to provide supervised release for everyone leaving prison in Alabama.
Many other needed changes still remain on the Legislature's plate, however. One important priority is Hill's proposal to allow judges to apply Alabama's new sentencing guidelines retroactively. The House declined to vote on that bill this week, but Hill has promised to file it again in 2022. Hundreds of people would be eligible to apply for a reduced sentence if the measure passes.
Arise also will continue to work toward repeal of the Habitual Felony Offender Act (HFOA), the state's "three-strikes" law. The HFOA is a driver of sentencing disparities and prison overcrowding in Alabama. The law lengthens sentences for a felony conviction after a prior felony conviction, even when the prior offense was nonviolent. Hundreds of people in Alabama are serving life sentences for non-homicide crimes because of the HFOA. Thousands more have had their sentences increased as a result. Repealing the law would reduce prison overcrowding and end some of Alabama's most abusive sentencing practices.
Protect and expand voting rights so every voice is heard
Arise members provided a resounding endorsement of efforts to protect and expand voting rights in Alabama. This includes support of federal legislation to prevent voter suppression and strengthen the Voting Rights Act. And it includes calls for numerous state-level improvements to promote greater civic engagement and increase access to voting.
One such improvement would be automatic voter registration (AVR) across Alabama. AVR would use information the state already has to register or update registrations electronically for hundreds of thousands of Alabamians. Another important step would be to ensure people who struggle to make ends meet are not denied the right to vote simply because they cannot afford court fines and fees.
"Our ability to progress as a state will be limited as long as any person or group is unable to exercise their constitutional right to vote," Hyden said. "We urge Alabama lawmakers to protect and expand voting rights by instituting automatic voter registration and lifting barriers to voting rights restoration."