The voices and needs of people matter. And engaging those voices in the policymaking process is key to building the better, more inclusive Alabama that we envision.
Alabama Arise remains committed to informing and equipping our members to influence policies that affect their lives and communities. As we look toward the Alabama Legislature's 2021 regular session, we're prioritizing ways to keep constituent voices at the forefront of the policymaking process.
The legislative session beginning Feb. 2 will be the most constrained in decades due to COVID-19's impacts. Access to traditional methods of contacting and monitoring legislators in person at the State House, including public hearings and floor debates, will be severely restricted for the general public.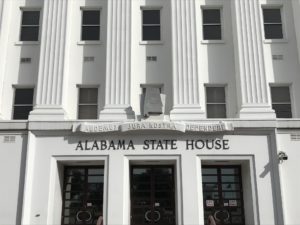 In fact, there is considerable uncertainty about how long and exactly which days the Legislature will be in session. While many bills will be introduced, the only constitutional requirement for lawmakers is to pass state budgets.
Lawmakers will meet for three days in each of the first two weeks before pausing until Feb. 23 for further assessment, House Speaker Mac McCutcheon said last week. The full Legislature can gather for up to 30 meeting days in 15 calendar weeks.
Because of the session's uncertain flow and the difficulty of meeting with legislators to discuss issues, we must use every method possible this year to inform and influence our legislators at the local level. Below are some of the key approaches you can take.
Methods of contact to use
Personal letters
Legislators may have significant breaks and limited contact from constituents during the session. An old-fashioned and powerful way to ensure they hear your voice is to write and mail them a letter. Be sure to make your case in your own words. (Information from Arise can help with explaining the issue and your stance.) Letters sent to lawmakers' personal addresses or district offices are best, but letters to their Montgomery offices are important, too.
Phone calls
Give your local legislators a call on the issues that matter to you. To develop a connection with them, ask them for information and tell them about yourself in addition to asking them to support or oppose particular bills. When you reach out to lawmakers, ask for their preferred contact number. If they give you a cell phone number, ask if you can text them about important matters during the session.
Facebook
Most legislators have Facebook accounts. You often can use them to message lawmakers directly or provide critical information privately or publicly. Arise organizers are compiling an up-to-date list of Facebook accounts to share with you for your local legislative delegation.
Twitter
Twitter can be a quick, powerful and public way to contact legislators, even as they debate issues on the floor. Arise organizers are compiling an up-to-date list of Twitter accounts for you to use to contact your local delegation.
Texting
Text messages can be the most effective way to contact your legislator quickly at any time. Legislators invariably read text messages on the floor, during the session and at many other times. If you don't already have a close relationship with the lawmaker, consider limiting your use of this method to critical moments when there isn't time to use other approaches. Note: It's important that you call and ask your legislator if you have permission to text them.
Email
Email is sometimes seen as an overused tool, but it remains an important and necessary one. When the session is underway, tons of emails come in to lawmakers. You should email them as well to ensure they hear from people who believe as you do. Emails sent while legislators are not in session have a better chance of getting read and influencing their position.
A few basic tips for speaking with legislators
Always be courteous and address lawmakers as "Senator" or "Representative."
Remember to tell them where you live and that you vote in their district.
If you are asking them to support a certain position or bill, ask them for a response.
If they support your position, be sure to thank them.
If they oppose your position, ask them politely to explain why.
Share what you hear with Arise. (Find the organizer for your area here.)