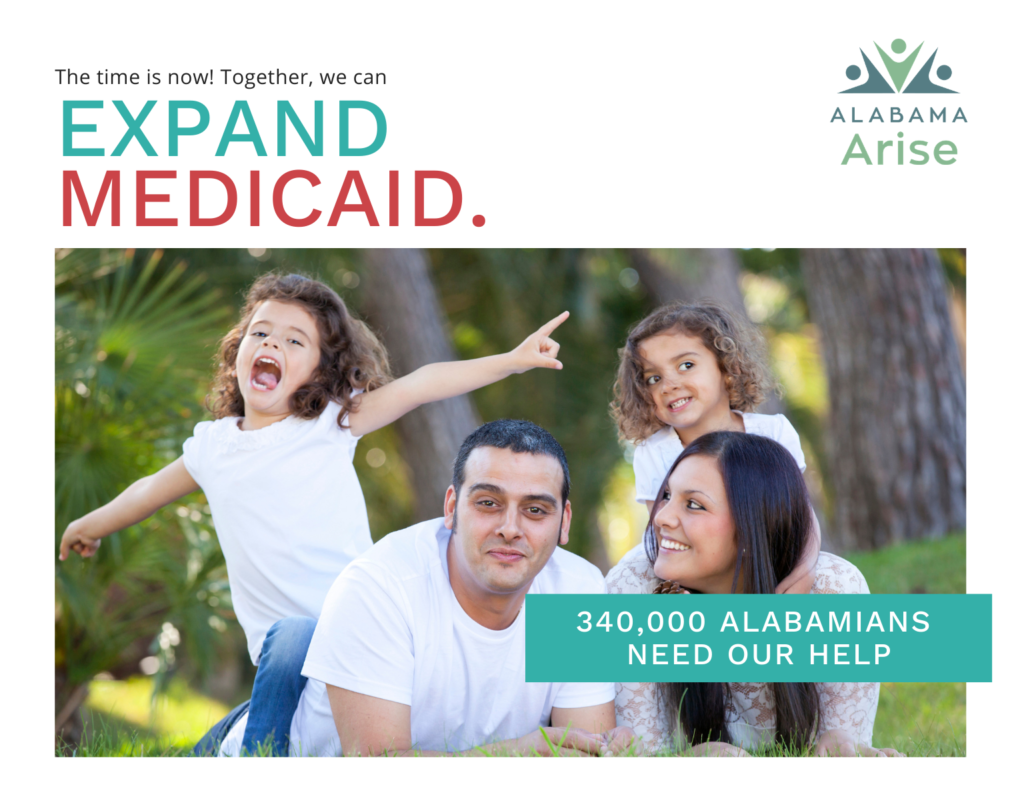 I am thrilled to report that Alabama is closer to expanding Medicaid today than we've ever been before! Thanks to your strong advocacy, our leaders are beginning to see the connections between the COVID-19 pandemic and unequal access to health care. They're facing the fact that rural communities, primary care providers and everyday Alabamians are buckling under the weight of a broken health care system.
Hundreds of thousands of friends and neighbors with low incomes have had to navigate the pandemic without health insurance. Alabama can do better. We can close the coverage gap now.
Alabama Arise has a goal of raising $50,000 before June 30 to accelerate our efforts to expand Medicaid in 2021. Will you consider making a contribution of any amount you feel comfortable giving?
How your support has helped protect and improve health coverage
For nearly 11 years now, Alabama's leaders have stemmed the national tide of Medicaid expansion. They've let the three-year grace period of full federal funding for Medicaid expansion expire. They've watched most rural hospitals teeter on the brink and eight of them close.
Our lawmakers have allowed hundreds of thousands of Alabamians with low incomes to face a pandemic without health insurance. And they've ignored a report from their own legislatively authorized review committee recommending Medicaid expansion as the single biggest step to address Alabama's maternal mortality crisis. Meanwhile, 38 states and the District of Columbia have opened Medicaid coverage to adults with low incomes. No state has reversed this life-saving decision.
It might feel like an 11-year stalemate, but we have slowly moved the ball forward. And your persistence has changed the game. Arise members and our partners have engaged policymakers on their own terms to protect and improve Medicaid.
When they said we couldn't expand a "broken" system, you helped shape reforms that brought community voices to the Medicaid policy table.
When they said we needed to scrap the Affordable Care Act and risk losing Medicaid altogether, you pushed back and stopped the effort cold.
And when they said Medicaid consumers needed more "skin in the game," you helped collect more than 1,800 public comments opposing a Medicaid work requirement and blocked the proposal.

Medicaid expansion is now within reach in Alabama
Now, as news reports confirm that Alabama policymakers are no longer "dug in" against Medicaid expansion, 11 years of hard work and steady vision have brought the prize within reach. As you know, the federal government pays 90% of the cost for Medicaid expansion. In Alabama, more than 340,000 adults with low incomes would receive affordable health coverage in the bargain. The state would chip in just a dime on the dollar for their care.
That bargain would pay wider dividends as the new funding creates jobs and generates new tax revenues throughout the economy. As one Alabama hospital executive put it, if our state recruited a new factory with the same economic impact as Medicaid expansion, we would have a parade from Huntsville to Mobile!
For 11 years, our leaders have left this offer on the table, claiming a dime was too much to pay for a dollar's worth of health care. Now, the pandemic has put Alabama's health care – and our health itself – in a harsh new light. Our state leaders are finally getting the message.
It's been a long 11 years, some of them dark and dreary. But you've kept pushing, and the light is breaking through.
We have bipartisan Medicaid support. We have a new administration in Washington that has dedicated funding to incentivize Medicaid expansion. And we have a community of more than 340,000 Alabamians who deserve access to affordable medical care.
We need your support now more than ever to support what we hope is our final push. Will you consider making a donation of any amount today to help Arise reach our goal? Please give today to support our Medicaid expansion campaign.