Declining wages and pay gaps in Alabama's auto manufacturing industry cost the state hundreds of millions of dollars in labor income and economic growth each year, an Alabama Arise report released Thursday found. Racial, gender and geographic pay disparities also persist even though Alabama automakers have received more than $1.6 billion in public incentives since 1993.
In The State of Working Alabama 2023, Arise assessed the results of the state's 30-year drive to launch and grow its auto manufacturing industry. The industry has benefited Alabama in many ways, the report found, employing more than 44,000 people and paying average wages that are higher than those for other workers in the state. The report also explained how Alabama could build on those successes by centering workers in its economic development strategy. Among the key recommendations:
Policymakers should strengthen the wage, benefit and accountability standards for tax incentives and other state and local subsidies.
Alabama should boost investments in K-12 education, child care and workforce training.
Automakers should raise worker pay to at least the same amount workers earned 20 years ago, adjusted for inflation.
Automakers should eliminate pay disparities between men and women, between white people and people of color, and between workers in Alabama and other states.
Employers and policymakers should recognize organized labor as a key partner in improving wages, working conditions, operations and productivity.
"Alabama has bet big on the auto industry, and we must ensure that bet benefits our state to the greatest extent possible," said Dev Wakeley, Alabama Arise's worker policy advocate and a report co-author. "Policymakers, employers, workers, unions and community partners all have vital roles to play in strengthening our state's auto industry and economy. By working together, we can build a more prosperous and inclusive economy that improves life for every Alabamian."
The high costs of lower wages for Alabama autoworkers
One crucial step to advance shared prosperity in Alabama's auto industry would be to increase workers' wages, the report found. Inflation-adjusted average wages for Alabama autoworkers were 11% (or $7,770) lower in 2019 than in 2002, the report found. By contrast, average wages increased for other manufacturing workers and for workers overall in Alabama during that period. The cumulative ripple effects of just one year of these lower autoworker earnings cost Alabama 1,622 jobs, $418 million in additional labor income and $586 million in GDP, the report found.
Eliminating pay disparities across racial, gender and geographic lines is another essential step to ensure equity in Alabama's auto industry, the report found. Black autoworkers in Alabama on average received 83 cents for every dollar that a white autoworker received in 2019. For Hispanic autoworkers, that amount was 78 cents for every dollar that a white autoworker received. Women in Alabama's auto industry earned just 73 cents for every dollar that men earned. And average pay for Alabama autoworkers has been consistently below the national average for decades.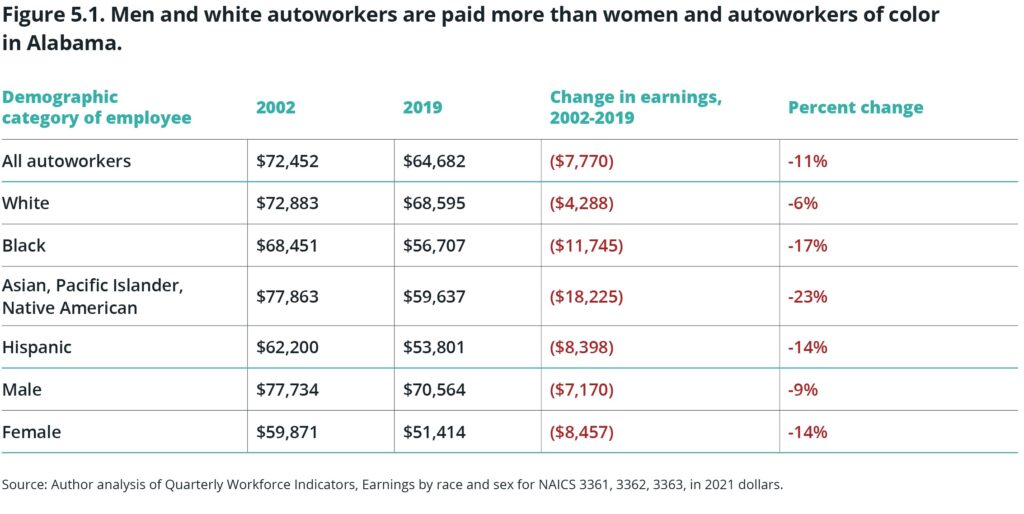 "Many wage disparities in Alabama's auto industry result from underrepresentation of women and people of color in high-wage occupations within the industry," Wakeley said. "Employers should address these gaps through targeted hiring and training and with more consistent and advanced scheduling. And both employers and policymakers should do more to increase the availability and affordability of child care."
Reforms to improve working conditions for Alabama autoworkers
Many auto employers in Alabama also should take action to improve working conditions at their facilities, the report found. Arise's interviews with numerous autoworkers revealed serious employee concerns about promotion and disciplinary practices and changes in pay rates.
The report recommends that employers address these concerns by ending tiered wage systems and enacting industry-standard workplace protections to eliminate arbitrary or bad-faith discipline decisions. The report also urges employers to pursue community benefits agreements with local stakeholders to demonstrate their commitment to making a positive impact on the communities where they make their products and profits.
Full report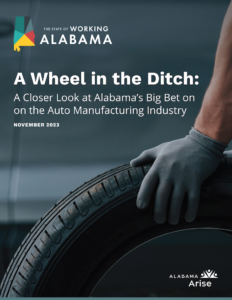 Alabama Arise's new report, The State of Working Alabama 2023 – A Wheel in the Ditch: A Closer Look at Alabama's Big Bet on the Auto Manufacturing Industry, is available here. A downloadable PDF of the report is available here.