Throughout our lives, there are many milestones.
We go to school dances. We graduate, and we get married.
But we don't get to those moments alone.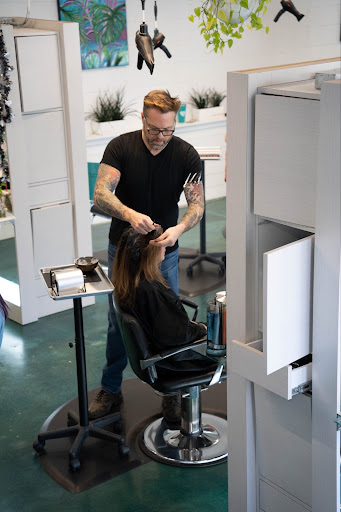 When we look back at the photos to relive our happiest moments, we see the faces of our friends and family smiling back. But there were other folks who aren't always pictured.
They're the hairstylists, barbers and nail techs who listened as we unloaded our anxieties. They always took our call when we realized (at the last minute!) we needed to do something a little extra to look and feel our best. And they deserve the security of knowing they can get affordable health care in their own times of need.
More than just a haircut
It was summer 2018. I was on a new medicine that solved my medical issues but had a gnarly side effect: I started losing my hair in chunks. I spent hours crying in the shower. After a few weeks of trying to convince myself I was a hat girl, I took a radical step and shaved my head. I didn't dare do it myself. I barely had enough energy to pick up the phone and book the appointment. But when I showed up: There was Jamie.
From the minute I sat in her chair, I felt at ease. My nerves were shot, but her calm demeanor convinced me everything would be OK. Jamie turned what was a disaster into a new identity for me.
When Jamie moved out of state shortly after, I was crushed. We'd been through so much. It was like dating: I didn't want to put myself out there all over again for a completely new person.
A few weeks (and several Instagram searches) later, I found Madison Tidwell.
Madison was a lot like me. She loved houseplants, grew up in a small town and stayed on top of trends.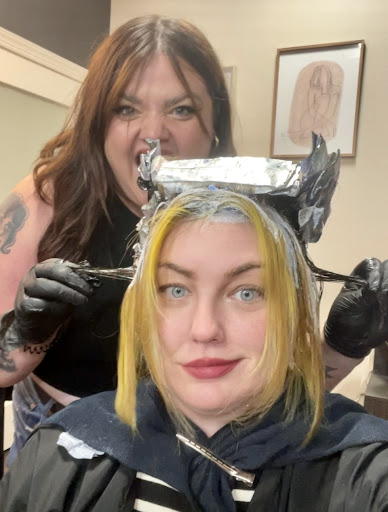 It's been two years, and I don't trust anyone else to touch my hair. We've been through growing out a pixie, evening out mullets – even going purple, green and yellow!
My experience is not uncommon. Many folks trust their hairstylists and barbers with their deepest secrets. And when you find someone you trust, you soon depend on them for more than just a haircut.
Living in the gap: How we got here and how we can fix it
Over the past few months, I've met with more than 30 beauty professionals in Alabama.
Some work at busy, upscale salons. Others rent booths in hometown shops. Some created their own business model by joining collectives of small, independent suites.
All have something in common: They all are uninsured or paying out of pocket for medical treatment. And along with nearly 10,000 other personal care and support workers, they would benefit from Medicaid expansion.
Because our state has failed to expand Medicaid, more than 220,000 Alabamians are caught in the coverage gap, unable to afford health insurance. Another 120,000 or more are stretching to pay for private or employer-based coverage.
Stylists usually work six or seven days a week, with little fanfare and long hours on their feet. They open early and stay late, especially on weekends when customers need them. However, most beauty professionals have no safety net in case of their own emergency. Most stylists don't get health insurance through their employers. And even those who are self-employed often don't earn enough to afford private premiums.
Like so many working Alabamians, these stylists and beauty professionals still don't have health coverage or access to affordable care. I want to cover their stories in my See the Gap series. Our series will begin next week and continue over the coming months.
It's important to share the sacrifices those in the service industry often make in their own lives to take care of everyone else. These stories will show what life is like in the coverage gap: from finding health care services and paying out of pocket for medical expenses to providing for a family when you work for yourself.
Working families in the gap are all around us. Their stories matter.
First, we'll hear from beauty professionals about what works and what doesn't. Some of them have graciously offered me a deep glimpse into life in one of the most physically demanding and emotionally taxing fields.
We also will discover what having health care coverage would mean for hairstylists, barbers and their families. And we will talk to workers and salon owners about how simple policy changes – like Gov. Kay Ivey expanding Medicaid – could improve these folks' lives exponentially.
Nearly every stylist I've spoken with says they chose their profession so they could change lives. They center their work around people but are often left unsupported by employers and Alabama's leaders.
Investing in the health of Alabama's working families should be a priority for all of us. Why don't our state's elected officials expand Medicaid? It's a question that deserves an answer.
Working people in Alabama are paying the price every day for our state's failure to expand Medicaid. Imagine what investing in those who do so much for our communities could do for all of us. Imagine what would happen if we see the gap and make life better for those living in it.
Please follow @AlabamaArise and @CoverAlabama on social media to make sure you don't miss our See the Gap series. And sign up for Arise's action alerts so you can be ready to speak out for Medicaid expansion and other needed policy changes in Alabama.
About Alabama Arise and Cover Alabama
Whit Sides is the Cover Alabama storyteller for Alabama Arise, a statewide, member-led organization advancing public policies to improve the lives of Alabamians who are marginalized by poverty. Arise's membership includes faith-based, community, nonprofit and civic groups, grassroots leaders and individuals from across Alabama. Email: whit@alarise.org.
Arise is a founding member of the Cover Alabama coalition. Cover Alabama is a nonpartisan alliance of advocacy groups, businesses, community organizations, consumer groups, health care providers and religious congregations advocating for Alabama to provide quality, affordable health coverage to its residents and implement a sustainable health care system.