Trent Thomas, 42, has been doing hair for a while now. And the first thing he'll tell you is how much of a good thing he's got going. 
"I love it here for a million reasons – some superficial – but it really is such a great place to be," he said, showing off his boss's massive plant collection visible from the street outside.
Trent was able to keep his job and his paycheck at Orbit Salon, in Birmingham's Five Points South neighborhood, even when the world slowed down in 2020.
"This neighborhood's always been so cool and aspirational," he said. "I think that's what a lot of stylists look for when going into the industry and what a lot of clients look for in a salon, too."
Trent said he is grateful for their support and knows not everyone is so lucky.
"It's not every day you get full-time benefits," he said. "It's not a normal thing to have insurance through a salon, like I do. It's incredibly expensive, and not every salon or stylist in town can afford it."
Pre-ACA: Life in the coverage gap
Things weren't always so good, particularly when it came to health coverage. Trent decided to attend cosmetology school in his 30s and started getting insurance at work shortly before he turned 40.
Before then, Trent spent many years without health insurance. After aging out of his parents' plan in 2003, he spent the next 15 years without employer-provided benefits.
"I grew up in the Birmingham punk scene, and I learned to find resources as close to the ground and as close at hand as I possibly could," he said. "You make it work from within."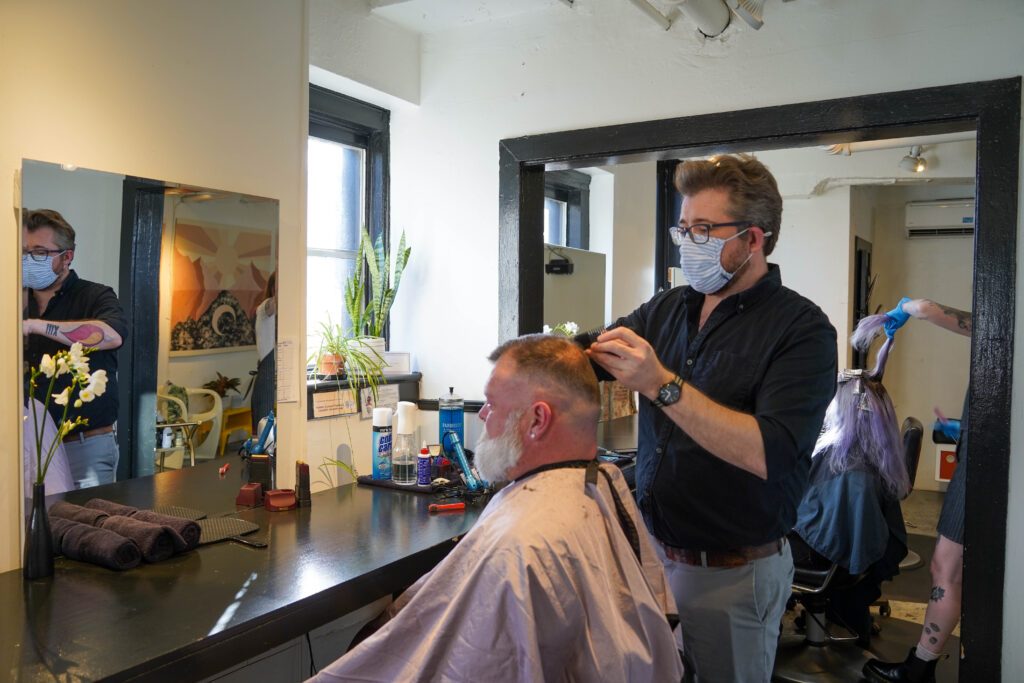 Trent has worked many jobs, including punk rock show promoter and clerk at an art supply store. His story of making things work through sacrifice is one of many – and one that resonates with many stylists.
After the Affordable Care Act was signed into law, Trent found a plan that worked for him and paid out of pocket for premiums. That came after more than a decade of putting off care or finding help through non-traditional means.
Even with ACA coverage, he still lacked dental or vision coverage.
"Everything was always out of pocket," Trent said. "I paid out of pocket in full for glasses. I used coupons when I could. I used the UAB School of Dentistry for a few fillings and extractions."
He said the school is an amazing resource for uninsured patients in Birmingham. But he also said the services still require payment up front.
Trent's biggest sacrifice healthwise came when he suffered a hernia and needed it repaired. He waited years to get surgery to ease the pain.
Access to care for LGBTQ beauty workers in Alabama
Trent also had to find a way to get his daily medications regularly without prescription coverage. Many workers in the beauty industry identify as LGBTQ, and that includes Trent. He's a gay man who takes PrEP to help protect against HIV, which disproportionately affects gay men.
Pre-exposure prophylaxis (or PrEP) is highly effective for preventing HIV when taken as prescribed. PrEP reduces the risk of getting HIV from sex by almost 99%, according to the Centers for Disease Control and Prevention (CDC). The medication is much less effective when not taken as prescribed, so interruptions in access could raise risk.
During his time in the coverage gap, Trent signed up for clinical research trials to gain access to the life-saving drug. Fortunately, access to PrEP is much easier these days. A few years ago, the manufacturer, Gilead, began offering the drug at low or no cost for anyone who has a prescription.
Patients in central Alabama also can pick up PrEP at local health clinics that offer LGBTQ-focused care. Trent regularly gets his primary care at a practice called the Magic City Wellness Center. The center's mission is to meet the needs of and reduce disparities in care for LGBTQ people in central Alabama. It is affiliated with Birmingham AIDS Outreach.
Trent made it through the pandemic relatively unscathed until he finally caught COVID-19 in December. He said being able to get regular care from his primary care physician has been a godsend during his recovery.
"I was lucky enough to find a doctor that treats LGBTQ folks like myself for free or on a sliding scale," he said.
Having health coverage and regular access to preventive care has allowed Trent to recover from COVID-19 on his own time. It also has reduced his risk of becoming more ill or losing his job.
The COVID-19 pandemic forces reevaluations 
Trent said recovering from COVID-19 both physically and functionally will be a steep learning curve not just for him, but for the beauty industry as a whole.
"Working on commission, you've got to be able to deliver when folks need you to," he said. "COVID, just like any other disabling condition stylists deal with, comes with nuances that make that sometimes impossible."
Many stylists are reevaluating their schedules, Trent said. Some are cutting down to three or four days a week. Many are spending less time on their feet whenever they have a spare moment. Striking a balance even when healthy is hard, he said.
"It's not like doing one haircut is all that taxing. It's when you're at the end of the day and you've done seven or eight of them," he said. "Your shoulders and back start to scream at you."
Many stylists are leaving their jobs or quitting the industry altogether because of rough physical conditions, Trent said. He said he is happy to see more salons working to accommodate disabled and older workers in response. He also called it a "timbre of the times" to see some younger workers organizing for better conditions.
How expanding Medicaid could help an expanding industry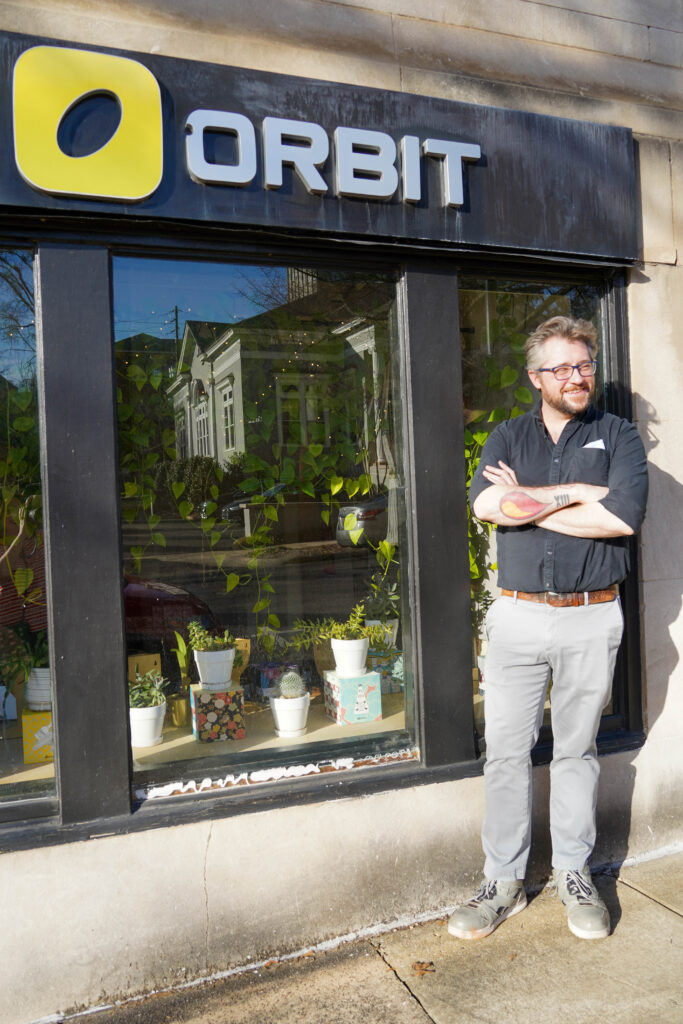 It's not all sacrifice. There's plenty of success to go around.
Trent said the future is bright for young stylists. But that better tomorrow will require investments in the industry's most important assets: people and their health. Trent said he believes full-time benefits and health coverage should be the norm and not the exception for stylists.
About 10,000 stylists and other personal care workers across Alabama would benefit from Medicaid expansion. In total, more than 220,000 Alabamians are caught in the coverage gap, unable to afford health insurance. Another 120,000 or more are stretching to pay for private or employer-based insurance.
Trent said he sees how other states and even other countries ensure their residents can get health care. And he wishes Alabama would step up, too.
"I feel like if our state really did expand Medicaid, it would mean money in the pockets of salons and stylists all over," Trent said.
He said he believes state leaders should do everything they can to support working Alabamians, including expanding Medicaid.
Trent said the Alabama mindset is often hampered by a "pull yourself up by the bootstraps" philosophy, but state officials aren't doing enough to equip people to thrive.
"I think that we live in the richest country in the world, and I wish we funded our health care system properly so we weren't so reliant on for-profit businesses to take care of us," Trent said. "If there's money on the table to expand and we're just letting it sit there, who does that benefit?"
About Alabama Arise and Cover Alabama
Whit Sides is the Cover Alabama storyteller for Alabama Arise, a statewide, member-led organization advancing public policies to improve the lives of Alabamians who are marginalized by poverty. Arise's membership includes faith-based, community, nonprofit and civic groups, grassroots leaders and individuals from across Alabama. Email: whit@alarise.org.
Arise is a founding member of the Cover Alabama coalition. Cover Alabama is a nonpartisan alliance of advocacy groups, businesses, community organizations, consumer groups, health care providers and religious congregations advocating for Alabama to provide quality, affordable health coverage to its residents and implement a sustainable health care system.